Not much happened in the last 10 days apart from a short walk around Glynneath with the Mrs and lots of rain and rubbish weather. Not enough rain to make it a worthwhile trip around the waterfalls though. I normally do one full waterfalls walk once a year when they are in flood. It's a spectacular walk and can take up to 6 - 7 hours depending on how many photos I end up taking. Anyway, back to today and Chrissy Hinde with her song. I think it's something like 'Stop Sobbing the World' and I think the Kinks may have recorded it first. But what do I know........ and I'll tell what I do know. I know frost when I see it so we had our first frost this morning for 10 days since my 'hair ice' discovery so after my early morning swim I popped into the house to pick up my best camera and was off on a short 'hair ice' explore-walk. And I found it too in the same spot as last week and nowhere else. Here's what I think is happening..............
The dead wood is absorbing rain and moisture through the air. When the air temperature drops and the water in the wood freezes it expands because that what ice does and the only way out of the wood is through the pores of the wood. The ice particles then grow together in line with each other out of the pores creating a hair effect. It's possible that the effect is only happening to the deadwood of only one type of tree in the area I have found it. I think I may have identified that type of tree as Silver Birch although there seem to be quite a lot of oak leaves in the area as well so this may be another possibility.
It was just before 9.00am that arrived at 'hair-ice-ville' and it had already started melting so best camera with me this time and I snapped away for about 40 minutes. This was my favourite 'My Little Pony Hair Ice' - if you look at the end there's a pony tail coming out of the right hand side and you can use your imagination for the rest.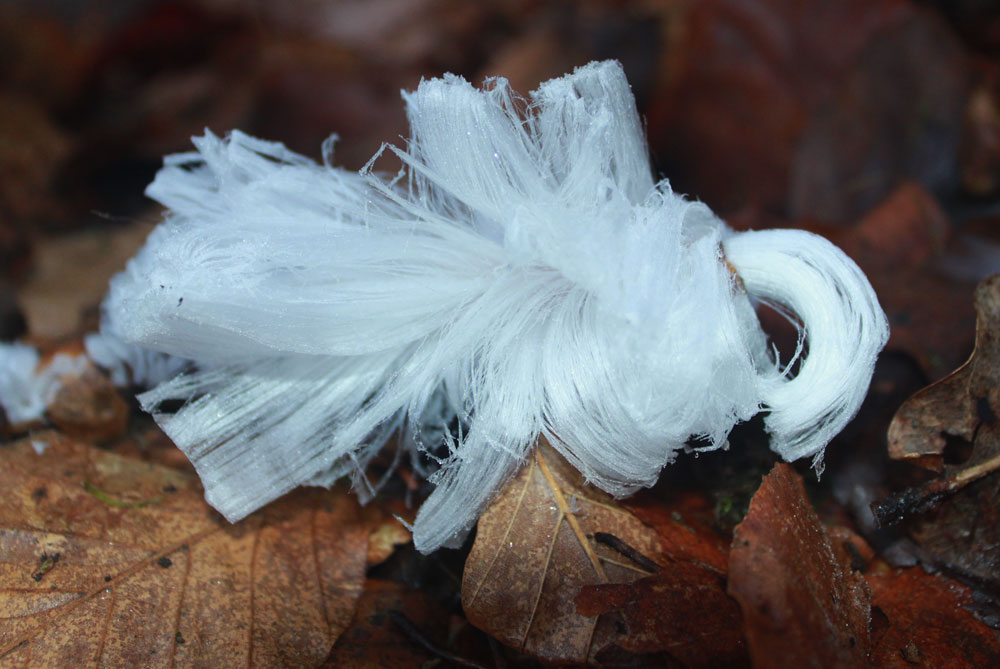 Isn't she a sweet little thing. But not in the easiest place to get to. If you look in the photo below, the arrow points to where she is..................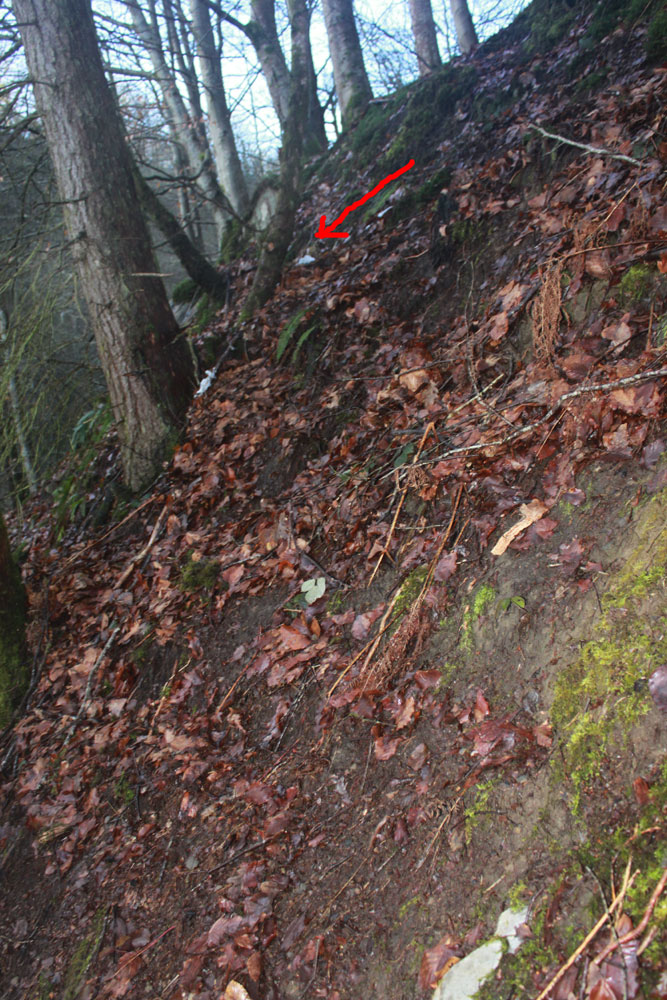 so I looked at the bank I had to cross and yes it was steep with about a 15 metre slide if I slipped and yes it was the first anniversary of when I broke my leg so I'm thinking is she going to be worth it and the answer to that question is yes she is. So I made the journey across and found myself still upright at the end and I took lots and lots of photos some of which are thumbnailed below:
.............I'm often asked if I am obsessed with hair ice - and the answer is yes.
Afterthoughts.......... 24/7/2015 - Dale sent me this link to paper published on hair ice....
http://www.biogeosciences.net/12/4261/2015/bg-12-4261-2015.html