It's a full moon again and Dale and I are off for another moonwalk, it's an early 7.00pm start because we wanted to build a fire, cook some spuds and a chicken, catch sunset and go for a swim as well. A lot of things to do which is the reason I didn't get home until 3.00 am.
We started off with a 30 minute walk to the beach, prepared the fire, dug a pit, wrapped the spuds, onions and chicken in foil, covered everything and built a fire on top, got the fire going just before sunset and took time out to witness the setting sun.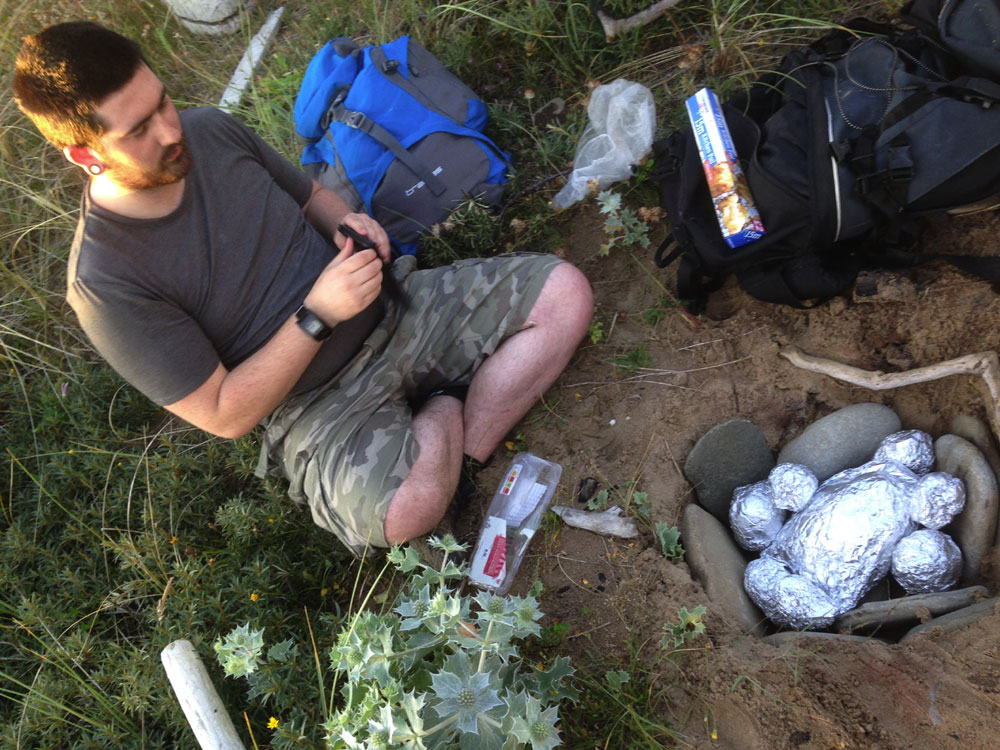 We returned to the fire, built it up again and down to the sea for a swim, I looked over my shoulder and had the most gorgetastic* moment. The moon was full and beautiful and in the sky. We then had 20 minutes in the sea that can only be described as wonderful, wonderful & wonderful, if we swam along the shore there were the colours of the sunset in the distance and if we swum back again the full moon was in the distance and the waves were perfect for body surfing - they were well spaced and large enough to carry you for 30-50 metres to the shore. I didn't know which way to turn and what to do next, a wonderful sunset, a wonderful moon and wonderful waves, the only downfall was that Dale beat me on distance surfing with last wave and we left the sea with him as champion.

Back to the fire and it was perfect, small flames and glowing red embers covering the pit so we built it up again, the food had another half hour before it was ready. At last time up, we dug everything up and it was all undercooked...........
aaaaaaaarrrggghhhhh....... apart from the onions. Note to self - cook for at least 2.5 hours next time, maybe longer. All was not lost we re-built the fire with a framework around it and roasting the chicken on a spit, Dale stuck a stick up the chicken's bum, naughty Dale.

Beauty and the Beast - the sun has set beyond the mountains throwing up lovely purples and pinks while the steelworks on the far right belches out steam/smoke. I can't complain, I wouldn't be here now if it wasn't for the steelworks, dad worked there for 27 years and I grew up in it's shadow.
Howeward bound, a half hour from the beach to the car with the moon lighting the way before us, it didn't do a good job lighting up the nettles though, top down on the Splidge for the journey home. Some great memories were built, new words were formed and new champions were made. Smile on to the next full moon - there's another one this month on July 31st.