Dai's walk around Wales blog - April 2019
1 April 2019 - North Beach, Tenby
13 April 2019 - 4 Waterfalls Walk
| | |
| --- | --- |
| | I let my son Simon choose today's walk and he pulled one out of the google hat. The 4 Waterfalls Walk from Gwaun Hepste. 77% of reviewers give this an excellent rating on Trip Advisor . I always love the waterfalls no matter the weather but for me the best time is when the river is flood. This can be quite scary especially when walking behind the illustrated Sgwd-yr-Eira. More pics etc to follow............ |
17 April 2019 - tour of Glynneath
| | |
| --- | --- |
| | Gethin and I did the tour of Glynneath, at the swimming pool Gethin completed a width swimming to earn his first swimming badge, for swimming 5 metres. More pics etc to follow............. |
20 April 2019 - Festival Park - Ebbw Vale
| | |
| --- | --- |
| | We drove to the Festival Park in Ebbw Vale for a crack at the Supertubing and a visit to the Owl Sanctury. Illustrated are my son Simon and the owner of the sanctury Malcolm with a Barn Owl. More pics etc to follow............ |
21 April 2019
| | |
| --- | --- |
| | Dale and I walked a circular route from Craig-yr-Nos Castle to include a visit to Dan-yr-Ogof showcaves and Saith Maen (7 standing stones) above the cave system. Illustrated is the walkway in Cathedral Cave. More pics etc to follow............ |
25 April 2019 - Brecon Beacons Horseshoe Guided Walk
27 April 2019 - Ferry Bend
| | | |
| --- | --- | --- |
| | I needed to smell the sea air so I took a trip to the Ferry Bend following the river down from Brunel's Dock. The wind was blowing big time lifting the sand off the dunes and the beach so I avoided the sand in the face by sticking as close to the river as possible. Pictured left the bend, right a line of limpet soldiers waiting to go over the top. | |
28 April 2019 - Glynneath to Resolven on the Neath Canal
Parking in the large lay-by between Glynneath and Pentreclwydau we headed to Resolven and Darren & Emma's mobile catering unit for Sunday lunch. Darren & Emma have recently set up their unit in the car park at Resolven, previously they were in Glynneath but have moved to Resolven for the climate. The joys of springtime were on view during the walk, in particular the wild garlic was in flower and I came across a new breed of this plant, the tree climbing wild garlic of Resolven, I've never seen it growing in a tree before.

| | | |
| --- | --- | --- |
| | | |
| tree climbing wild garlic | riverside masses of wild garlic | tree down |
More about Darren and Emmas, here's a pic of them with Meg...........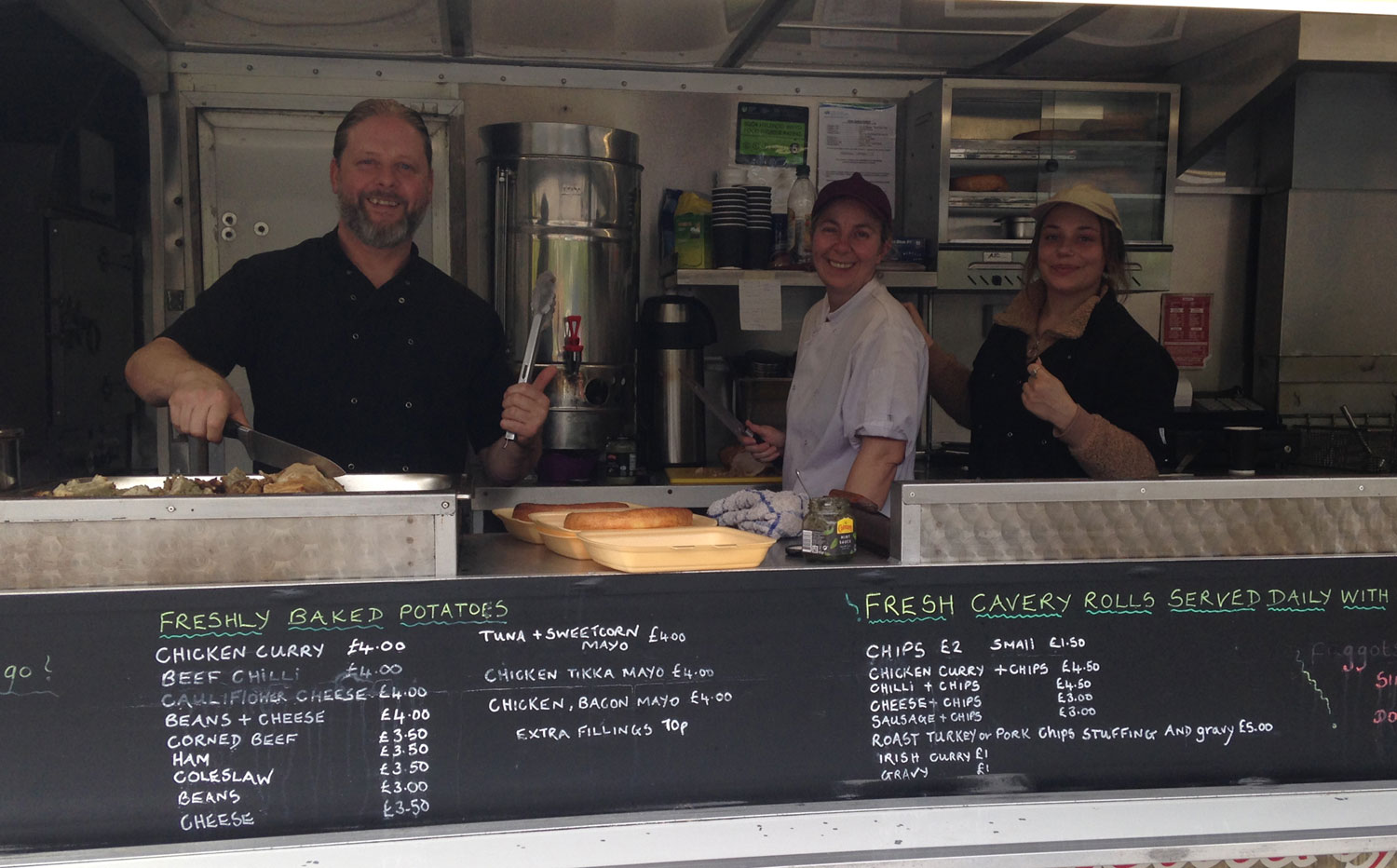 The unit is located in the canal side car park just of the A465 roundabout in Resolven. You can pre-order your food by ringing this number ( 07557 415 023 ). For Sunday lunch we recommend the carvery, contained in a yorkshire pudding, it is absolutely gorgeous.


| | | |
| --- | --- | --- |
| | On the way back we had a long chat with Rhian and Gethin of the South Wales Adventure Company. The pair have taken over the canal side cottage Ty-Banc which is featured in Alexander Cordell's book Song of the Earth. This is the last book in his famous "Rape of the Fair Country" trilogy. To buy this and other Alexander Cordell books please visit our sister website Rugby Relics. - CLICK HERE | |
| | Despite having just polished off lunch at Darren & Emma's we found room for a Magnum and a coffee at Ty Banc. There is also the opportunity to hire canoes there. Gethin and Rhian are able to provide a range of adventure activities based in Ty Banc and other locations in south Wales. These include canyoning, gorge walking, rock climbing and abseiling, coasteering, hill walking and hiking. For more information about the activities provided by Gethin and Rhian please visit their website by clicking on the link below........... | |
30 April 2019 - Black Mountain Roundabout (BMR) (Jeff Bruce Training Bike)
This year, as long as I get round to finishing a triathlon it will be the 35th consecutive year in which I've completed one. I first heard about triathlons in 1983 and immediately started training for them then. I was a good club runner at the time and when I did my first triathlon an event called the Pen-y-Bont Ironman in 1985 I was the county 5000 metre athletics champion. I reached a good level at triathlon, winning about 15 events individually and representing Wales. In 1992 I switched my focus to multi-sport and quadrathlon, adding kayaking to the three triathlon disciplines of swimming, cycling and running. Back in the early 1990s I added the Black Mountain Roundabout course to my training routes. Originally starting in Neath, heading over into the Swansea Valley, up to Brecon, Sennybridge, Trecastle, Llandovery, Llangadog and over the Black Mountain into Bryaman. Once back in Neath I used to have to nip down to Aberavon Beach to make the ride up to 100 miles, I wasn't hanging around so usually completed this in under 6 hours. The difference when I'm riding now from my training days is that I've walked most of the areas I'm riding through and as a consequence I'm far more in touch with my surroundings. Nowadays I take short cuts on the Black Mountain Roundabout because I'm slower than I used to be and I don't want the daylight hours to run out. One of the shortcuts is the Tafyrn y Garreg to Trecastle road and since I've walked this area extensively I know what's over each ridge and around each corner. I'll let the photos below tell the story............

Nothing in front - Moel Feity is in the distance with the crash site on I could never find. To my left is the River Tawe, the standing stone Maen Mawr, a small stone circle and a stone avenue, the Fan Hir Ridge is above those and just below that Llyn y Fan Fawr with the source of the Tawe just below that.

Nothing behind, there's an old fella in the way with a crash helmet held together with sticky tape. The helmet is a television star and has won many championships so the bin is not an option. The downhill ride on this road is quite amazing.

Shirley and Shaun the sheep have decided to make an appearance on the road so I politely ask them to remove themselves and..........

........ they do because of the scary shadow man riding no hands and talking gibberish as he passes.
☺
Search the website with Google