Dai's walk around Wales blog - March 2020
2 March 2020 - Sully to Bendrick Rocks
| | |
| --- | --- |
| | I had some business in Penarth and Barry on this morning so took the time out to cut back on a part of the coastline I'd missed out on my walk around Wales leg of Barry to Cardiff. My intention was to visit the 200 million year old dinosaur footprints near Bendrick Rocks but unfortunately as I learned the evening before someone had pinched them. I timed the walk to coincide with sunrise and after the recent storms and floods it was welcome back Mr Sun. |
7 March 2020
19 March 2020
MY COUNCIL OF DEATH
Twelve years ago (in 2008) the land behind my house was chemically tested and found to be contaminated as part of a planning application. There is no record of anything having been done about it. This means that for at least the last 12 years I've been living next door to land which is contaminated with at least two grade 1 classified carcinogens, Arsenic and Benzo[a]pyrene. My local council is where I got this information from, so they are aware of this so I asked them the following questions..........
Question 1 - What should have happened when the land was identified as contaminated?
Question 2 - What did actually happen?
The council (Neath-Port Talbot) have avoided answering these questions and are refusing to deal with me so I've had to start a journey in an attempt to find the answer to these questions myself because I don't feel comfortable knowing that I'm paying council tax for my council to place my family in danger.
25 March 2020 - THE RIVER NEATH TRIATHLON
The River Neath triathlon course from mouth to source I'd had in mind for a while as a training session but the combination of the lockdown (social distancing), a big birthday (60th), my water temperature test (open swim every month of the year) and nice weather meant I was able to use my skills as a race organiser to put on the event. The event rules were that entries were only allowed on the day. I opened up entries at 07.00am, closed them at 07.01am and started the race at 07.02. I spent 2 hours putting together a race briefing about competitors staying 2 metres apart but thankfully no-one else turned. I crossed the finish line at Pontneddfechan alone in first and last place. Well done to myself on winning the inaugural River Neath Triathlon and more importantly the World Social Distancing Triathlon Championships, open event and vintage veteran / over 60s category.
CLICK HERE TO SEE THE YOUTUBE VIDEO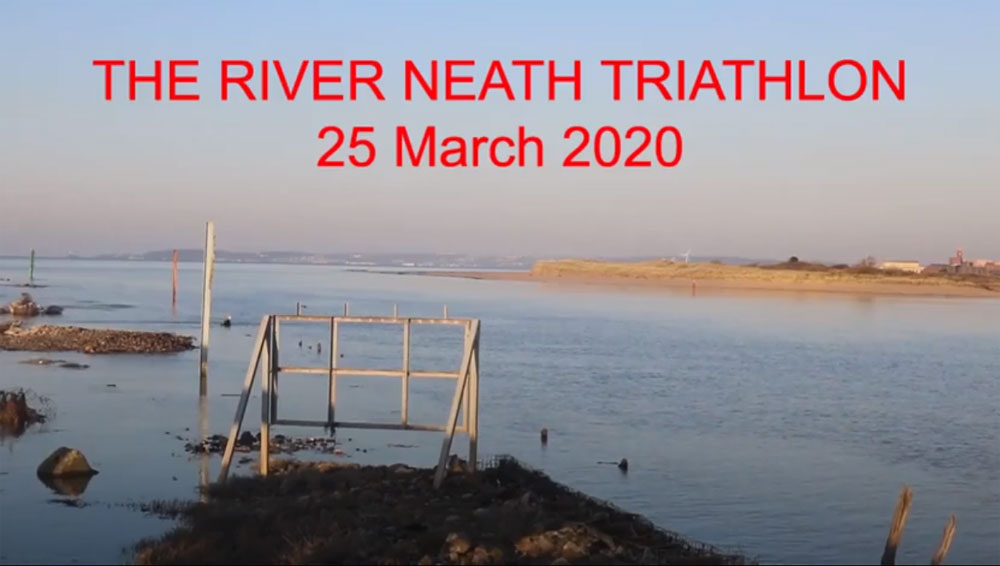 ☺
Search the website with Google