The forecast was for a good evening and I had some stretching to do because I'm trying to grow taller so I headed off to the sunset mountain Fan Llia for my stretching and sundown. I planned a circuit Blaen Llia, Fan Llia, Maen Llia and Afon Llia which is known in my head as the Llia Roundabout. I know there's a lot of Llia going on there so let's start first with Llia, I've no idea where that comes from, tehn Blaen Llia, Blaen is an odd word with many meanings, it could mean 'source of', front of, a high inaccessible place, near to. In this case I think it's near to because the source of the Afon Llia which means Llia River is at least a couple of miles away.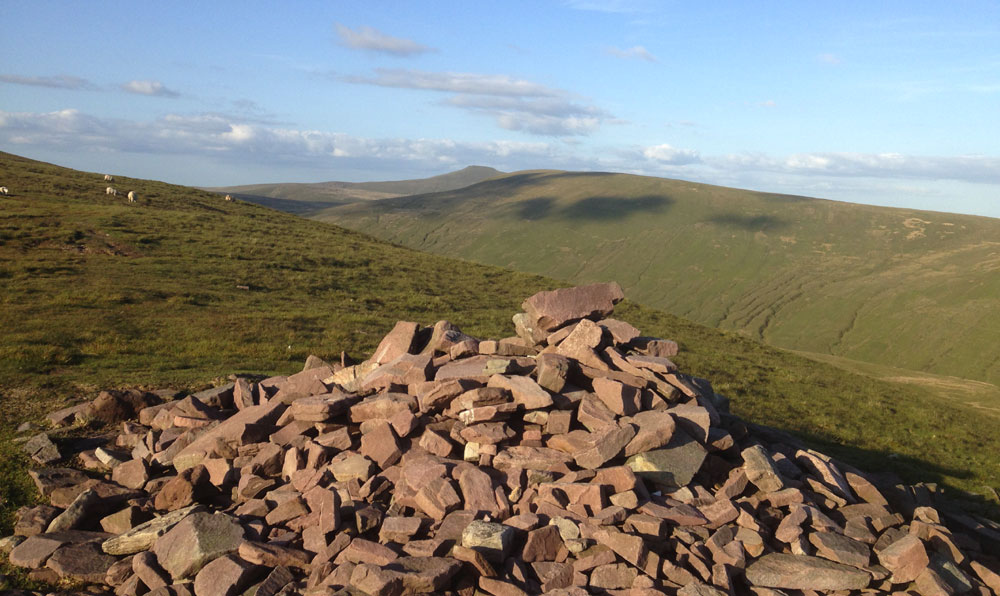 The cairn on Fan Llia with Fan Fawr, the nearest mountain and Corn Du in the distance
Fan Llia (pronounced van) is Llia Peak or Mountain, most of the peaks in the Brecon Beacons are called 'Fan Something or Other' but I don't thinks there's a literal translation for this. Maen (meaning stone) Llia is a great big standing stone on the lower slopes and back to Afon Llia and there's a road next to it which should really be called Ffordd or Heol Llia but then again it's more likely to be called Ffordd Nedd because it's more on Fan Nedd rather than Fan Llia. Confused, you should be because I think it's actually called Sarn Helen, it's an ancient road the Roman's used between Neath and Brecon which is named after St Helen who travelled it I think in the 5th century. Anyway I followed the road all the way back to Blaen Llia just as darkness fell and alighted my chariot and headed off home. There are so many questions to be answered there I'll need to keep doing the Llia Roundabout until I have all the answers. And I forgot to mention the Pen-y-fan sheep guards..............

............ OK, I played a little on photoshop with the picture but they were there watching me when I was stretching, they are real and they did look like that, they spooked me a bit.

Sunset was nice but not brilliant - the angle of sunset took the sun away from the Black Mountain which wasn't ideal but you can't always have it your own way. Roll on the next outing.