DAI'S WALK-AROUND-WALES BLOG - JUNE 2017
2 June 2017 - Trallwn to Cilfynydd on the Taff Trail
My daughter Laurie and I did a 4 mile loop from the top end of Trallwn to Cilfynydd. We passed by Pontypridd High School which is near the site of the old Albion Colliery. We didn't go looking for old mine shafts which have been capped but carried on for fish & chips in the Codfather Fish & Chip shop in Cilfynydd. fair play they were the best fish & chips I'd tasted in a long time. Scrummy Tuck.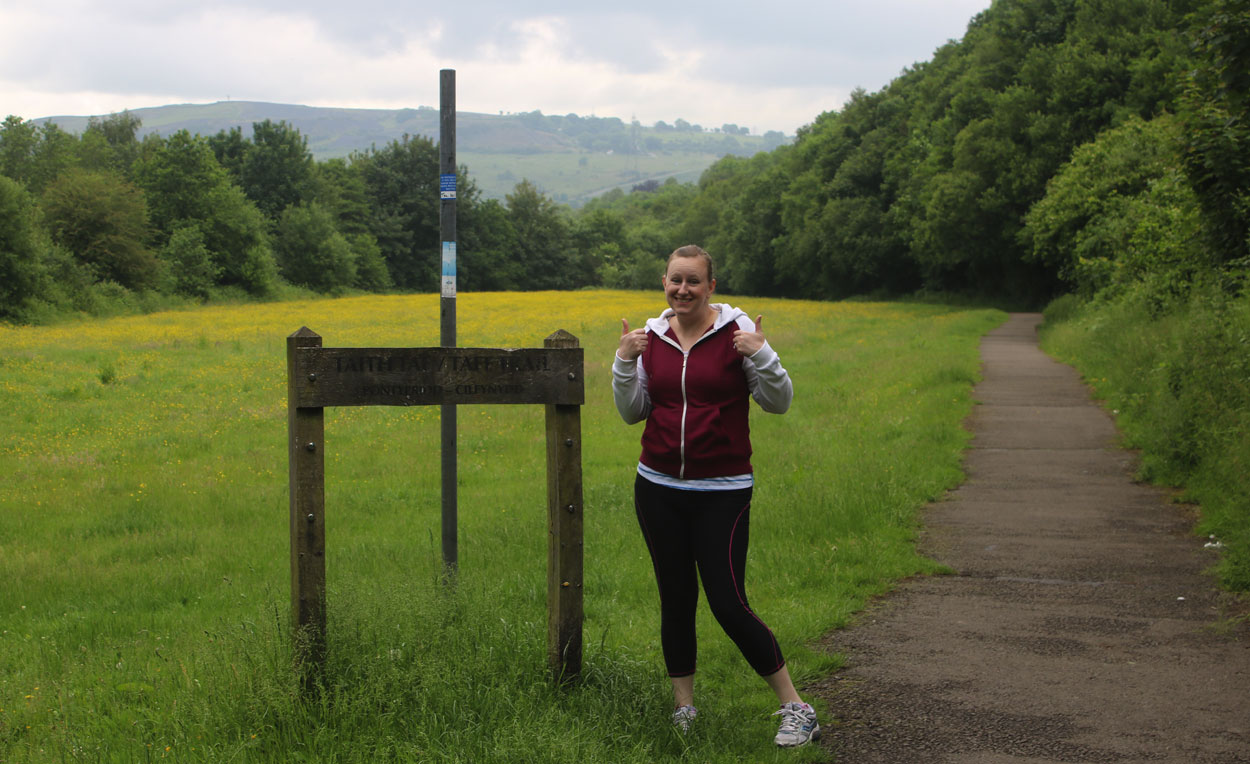 Laurie on the Taff Trail just north of Pontypridd
11 June 2017 - Family picnic - The Gnoll

On what would have been my mum's 95th birthday plus 2 days we decided that we should have a family picnic day near to where my dad's ashes are scattered in the Gnoll Country Park. Pictured are 23 direct descendents and partners of my parents David & Marion Richards. If you can only see 22 its because Paige is in the pram facing away. After the picnic most of us walked through the Gnoll park to the adjacent Llantwit cemetery, which was built by my great grandfather William H Snow.
17 - 20 June - glorious weather
I've been tied up with work and finishing a long distance non-walking project for the last few weeks & months which is still ongoing but with the weather turning to glorious it was time for walking the tide-line on Aberavon beach at sunset.
20 June 2017 - Mr Jellyfish & many of his siblings were washed up on the strand line when we arrived on the beach but this monster had only just arrived.
19 June 2017 - walking around the garden
While walking around the garden, Hayley spotted this fantastic dragonfly resting on a wall. These are the most amazing creatures.

26 June
| | |
| --- | --- |
| | I walked into the water for a swim with my mates, pictured with Martyn Powell, who also walks around Wales |
27 June 2017
| | |
| --- | --- |
| | The local walking group Cerdded-y-Cwm have published their new programme staring on 27th June. |
30 June 2017
| | |
| --- | --- |
| | This yellow flowering plant I normally find in sandy soil but there was a whopper growing by the river in Glynneath. |
Search the website with Google