Dai's walk around Wales blog - July 2019
8 July 2019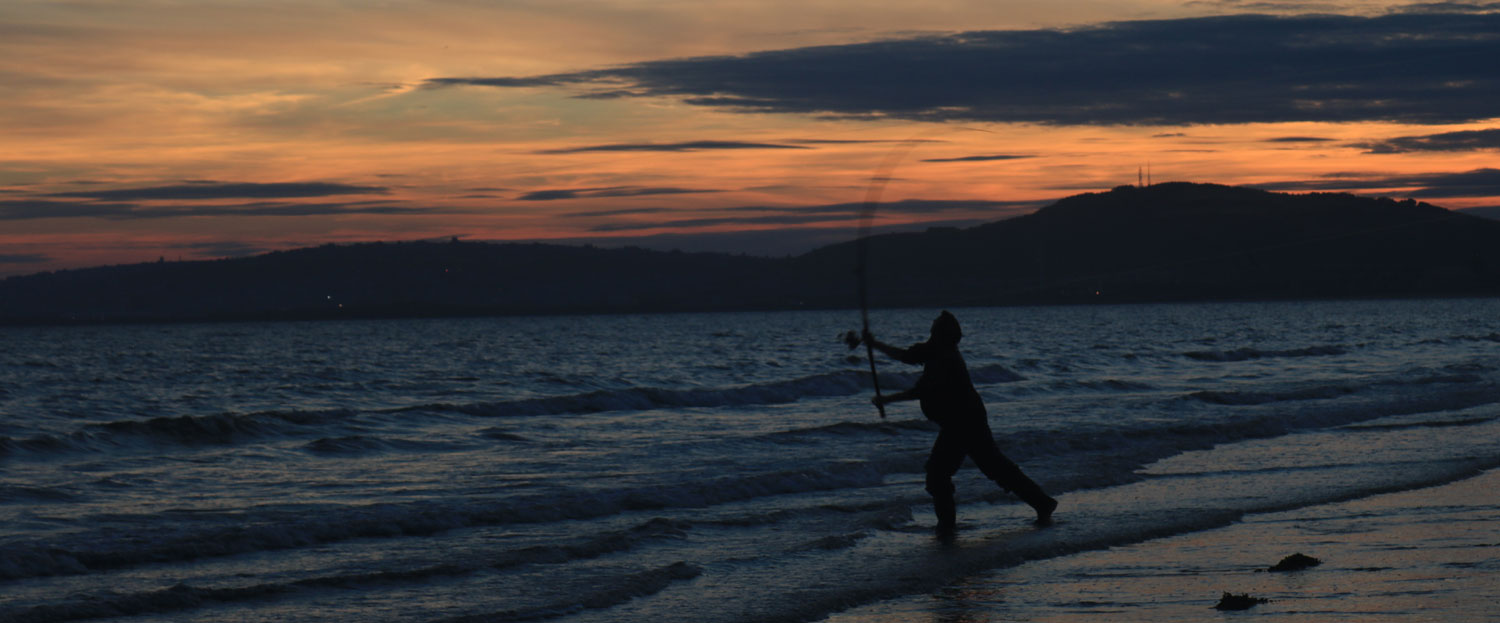 It was a lovely warm day so I hopped on my trusty Roberts (mountain bike) and rode the canal to Aberavon Beach and back again for a sunset walk. the sea has warmed up beautifully and there was nice sunset, oranges & pinks all around. I met Carl from Port Talbot Harriers on the way down and I bumped into Richard Weller on the way back, a top man Rich, like his twin brother Chris, as we were approaching from different directions and a fox cub on the hunt in between us noticed us both and was in confusion as to which way to run, his head turned from side to side in panic and eventually he scarpered up the bank and away to safety. Oh the joys of summer.
14 July 2019 - the night of the missing men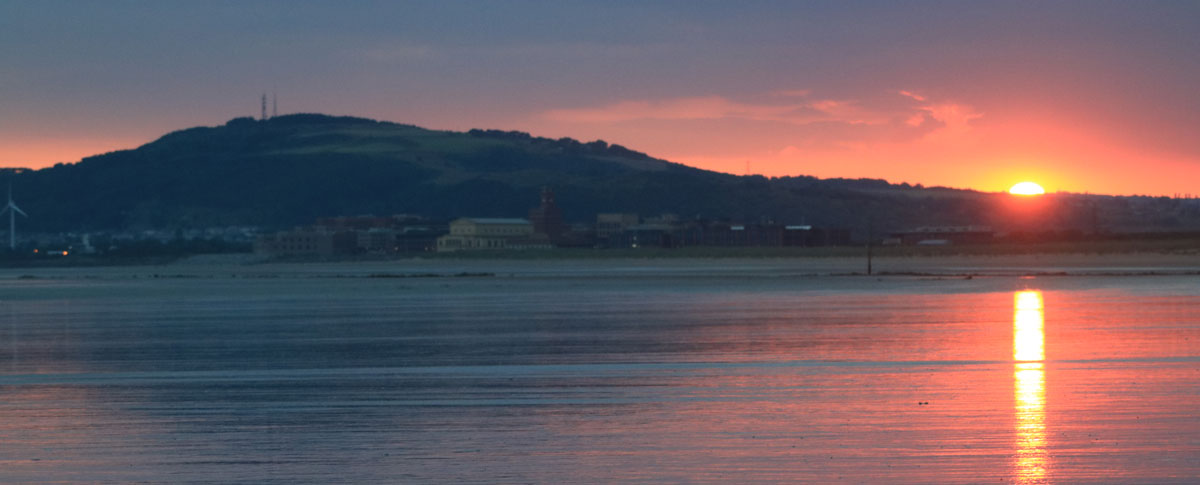 Swansea University at sunset
It was the night of the missing men, arriving at the beach 20 minutes before sunset I spied a chap walking lonely as a cloud on his own towards the Ferry Bend, The sun was a dark orange and full so I tried to get a photo of him in front over the sun, I failed dismally, the sun spots kept appearing on the image and I tried only using the screen but the focus went haywire, the best one I could get without the spots is below. 15 minutes after sunset, the RNLI came rolling up the beach in their Land Rover and asked me if I had seen and man in black and while cycling home on my trusty Roberts the police were out in force on the canal between Resolven and Rheola asking me if I'd seen a guy in a baseball cap. Luckily I didn't miss Glynneath on the way home so didn't end up in Aberdare, Brecon or Greenland-by-sea.

Trusty & the sun
missing man 1

beam me up snotty

missing man 2
Man making a poor attempt to go missing.
16/7/2019
eclipse of the moon - what I love about the moon is almost everything but there are two things I really don't like about it.

1 = you can't take a tidy picture of it with anything else, everything else is just dark when you do.

2 = You see the same side every time - if the moon is going to rotate around the earth why doesn't it rotate itself at the same time so we can see something different. You don't hear the people living on the sun complaining about the earth because they only see the same side of the earth day in and day out. Which begs us to ask the question, is it ever night time on the sun?

17/7/2019
Hayley and I took time out to pay our respects to Hayley's Dad, Idris Thomas (1940-2019) who recently passed away. He is buried in Coed Gwilym Cemetery in Clydach so we parked at the Colliers in Trebanos and walked to Clydach on the road via the cemetery. Hayley's uncle Malcolm who died at the age of 26 in the Brynlliw Colliery (Gorseinon) disaster in 1963 is buried 3 graves across from Idris. This was the closest available plot because Idris wanted to be buried with his brother. Thanks to Jason of C Meirion Hopkin & Son, funeral director of Clydach who made this possible.7

We returned via the canal. The canal is a lovely walk and I have memories of paddling it back in the early 1990s. The local societies & public had been doing so work there including adding signs with some humour and dressing up the trees.

20/7/2019

The sport of Aquathlon is for people who have had their bike stolen and are unable to do triathlons. Well maybe it's for people who do triathlons and swimmers and runners etc etc. Basically an aquathlon is a triathlon without the cylce. It was nice to see today young Deri Stewart and his brother Ben Bartlett on the podium at the Welsh Aquathlon Championships 2019. Deri was the overall winner and Welsh champion. The reason I include this information, because I wasn't at the event is because I was Deri's first club coach when he was five (see lower photo). I nicknamed him the machine, he was one of those kids who loved to race, he had an inner motor that just didn't give up, a great kid, well done Deri & Ben too.
21/7/2019
I took a ride down to pier on Aberavon Beach, I hadn't seen the sea all week so if it wasn't coming to me I was going to it. While riding on the prom there was a surf life saving competition going on. Shhhhhh don't tell eveyone how good Aberavon Beach is.
23/7/2019
We had a BBQ at my brother-in-law Stephen's house and when the call was made for a family photo another brother-in-law Malcolm got everyone together and sized them off in true military style and marched them into position.
26/7/2019
26 July 2019 - I was walking into the Co-op in Glynneath and my dreams had come true. Gill (pictured) was giving samples of Joe's Ice Cream away for free. Can anything ever beat that.
28 July 2019 - Sunset ride & walk - Aberavon Beach - high tide 16.00 - low tide 22.10.2
| | |
| --- | --- |
| | Beach ride for a sunset walk in the shallows. I arrived 45 minutes before sunset and there was a major cloud threatening rain over Kilvey Hill. There were some pretty nice cirrus clouds hovering above so a super sunset was a slim possibility. This never materialised and in fact I never saw the sun the whole of the evening, you could tell whereabouts it was but there was thin cloud here, thin cloud there and everywhere except for over Kilvey where there was a massive one hanging around. |
31 July 2019
| | |
| --- | --- |
| | There I was minding my own business in a game of DSP when up pops my little big sister Barbara alongside me on a bike. She was off to play at some line dancing so we rode together for a mile or so and I explained the rules of DSP as we were riding along and she didn't want to play so I carried on playing on my own. What a pleasant day........ indeed. |
☺
Search the website with Google