25/8/2019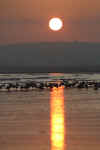 Today (26 August 20189) is the 19th anniversary of the realisation of one of my life's ambitions, in 1992 I competed in the New Zealand Coast to Coast and finished 3rd in the 2 day event, travelling half way around the world and achieving reasonable success in the backyard of the one of the world's most fiercely competitive nations I realised that I was capable of becoming an old man world champion when I turned 40. I started building a pathway to achieve that success and in 2000 I drove to the Czech Republic in my VW camper van and won the veteran's (over 40) quadrathlon world championship. I was 8th overall so still quite sharp amongst the youngsters. I've always been ambitious and yesterday evening I put another of life's ambitions to bed. I got a photograph of a seagull in front of the sun. I've been trying for at least two years to achieve this and sunset at the Ferry Bend last night was my big chance. Hundreds of seagulls on the sea's edge and just as the sun hit the mountain I ran at them and caused a mass flyaway. Click click click went the motor on my camera and bingo Cedric Seagull appeared in front of the sun. There is a saying, "little things please little......" I can't really remember how that goes but I do know that when I grow up I want to be an engine driver.

On a serious note, riding home on the canal, I was second on the scene of a suicide attempt, where a young lady in her mid 20s had jumped off the Neath flyover into the canal. The chap who rescued her and myself tended to her while we waited for the ambulance and police to turn up, I do hope she's alright.

There is more to life than seagulls in the sun.