Last month on a sunrise walk along the Gower coast I stumbled across some pebbles strategically placed on benches above Rotherslade Bay, being the nosey and inquisitive soul that I am I chased the contact information on them and arranged a walk with Jim the Swim.
CLICK HERE FOR THE BLOG OF THIS WALK
If you haven't clicked that link, here's a couple of photos of the pebbles so you get the gist of it.
Jim & his book about growing up in Swansea

We met mid morning at Jim's and I met his lovely wife Sue, we talked for an hour covering common ground, kids, life and the universe then off we headed to Rotherslade following Jim's almost daily route through the streets of West Cross and Newton to Oystermouth cemetery. Here we cracked open the camera and started to video blog our walk and swim.

The autumn colours were superb on the trees around the cemetery which is naturally bowl shaped. There is lovely avenue of Yew trees through the centre and we bumped into Chris and her former guide dog Big Dave. Chris told us the story of how she looked after Big Dave as a puppy then sent him on his way to learn his trade as a guide dog, and how one day she received a call saying that Big Dave was getting the sack because he had a phobia about wooden flooring and refused to enter shops and places that laid such traps for dogs. The problem was that his legs were too long and he'd slip and slide and slide and slip. Poor Dave, maybe he was just happy living with Chris and acting up in the knowledge that they'd send him home.

I want a pair a pink crocs just like that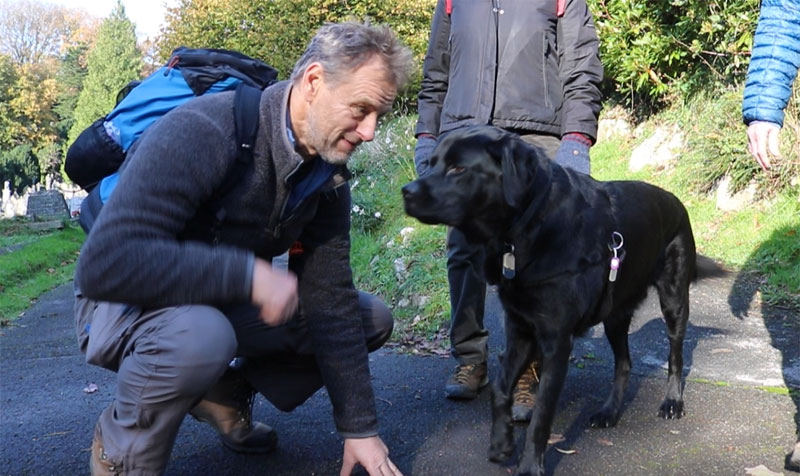 Little Dave meets Big Dave
Jim and I bade Chris and Big Dave goodbye and just a little way further along the path on this Remberance Sunday we took the time to pay tribute to a brave young man who made the ultimate sacrifice in the First World War. His grave has fallen into disrepair but you can still read the inscription................
To the memory of
Cyril Donald Thomas Jenkins (of Swansea)
who was a Lieutenant in the 3rd Battalion of the Royal Welch Fusiliers who served through the Gallipoili campaign where he was wounded. He was then attached to the Royal Flying Corps and fell in the service of his King and Country, 2 October 1916.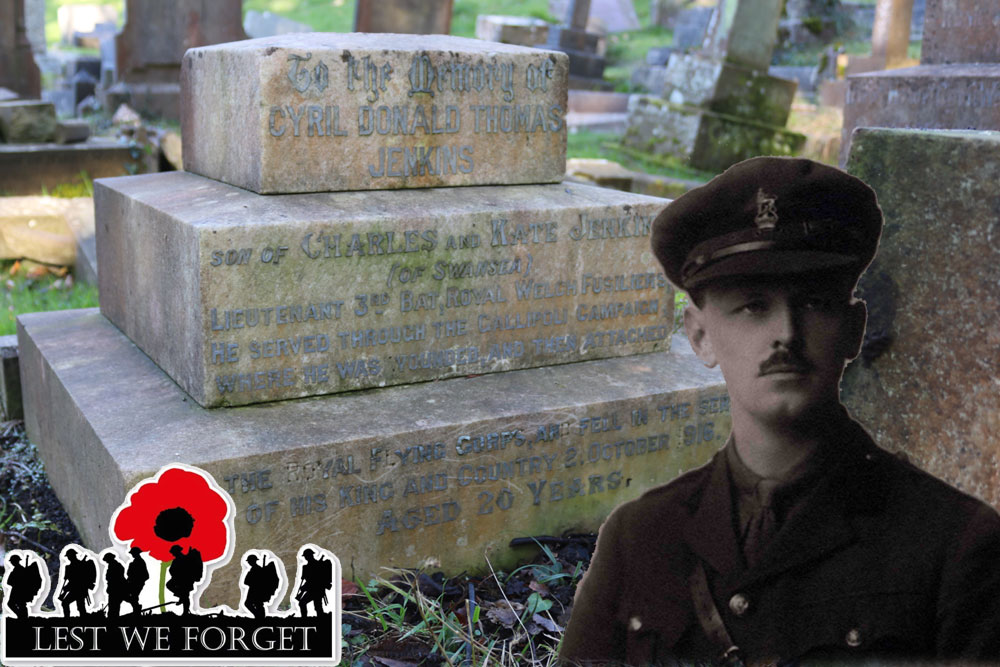 ..............The ironic but incredibly sad story of Cyril Jenkins is that he served through the Gallipoli campaign and died we assume in training accident in Cramlington, Northumberland after he'd joined the Royal Flying Corps (RAF) This is according to the Malvern College website who in their school magazine published shortly after his death describe his character simple and unassuming.................
'Although never a prominent member of the School, Cyril Jenkins gained the affection of all with whom he came in contact; simple and unassuming, there was a hidden strength of character which attracted all. He left in December 1913 to follow his father's profession as a solicitor, but upon the outbreak of war he joined the 3rd Battalion Royal Welsh Fusiliers with his chum, John Morris (who was killed in action on 15th May, 1915); he was sent to the Dardanelles in the following September, and saw most of the campaign in Gallipoli, receiving a slight wound just at the end of his time; from this he quickly recovered, and on returning home joined the Royal Flying Corps. He was killed in consequence of an accident to his machine on 3rd October.' (Malvernian, Nov 1916).
( http://www.stanwardine.com/cgi-bin/malvernww1.pl?id=227 )
*****
Life must go on they say and on we went through Underhill Park and down into Rotherslade Bay........
..............The weather and tide were perfect for winter swimming, warm and not windy, Jim says it the wind chill that catches you after a swim, he should know, he been in swimming when there is a wind chill factor of minus 11 on the beach. "I get a bit pink from swimming in the cold sometimes but when the wind catches you after it can turn the skin quite grey". We came across the benches and Jim's pebbles were the topic of conversation amongst some and one little boy in particular pictured left was collecting Jim's pebbles for the trip home......
It must be a little boy thing, at a similar age I was collecting stones from a garage compound near where we lived and taking them home in the boot of my tricycle. My dad ended up taking the boot off my trike to stop me doing it. Up to Jim's hut we went with a beautiful view of the bay, a quick change and we were down on the beach, setting up the video and at last we were swimming. Massive waves pounded us as we entered, some too big for body surfing, but we did catch a few................. fun times.
*****
A BIG THANK YOU TO 'JIM THE SWIM FOR' TODAY'S WALK AROUND WALK EXPERIENCE - 'TOP MAN'
VIDEO BLOG TO FOLLOW