Dai's walk around Wales blog - November 2022
6 November 2022
| | | |
| --- | --- | --- |
| | The audacity of this person with the kite knows no bounds, a crazy outlaw sailing in front of this sign on Aberavon Beach that forbids such malicious acts. Lock them up for life. | |
10 November 2022
Open mic night - Neath Poetry Group. My first appearance with two efforts, one of my classics 'the robin' and the other off the cuff 'my raffle ticket'

The raffle I lost...........

my ticket I tossed.

I can't wait until the next episode of Poetry in Neath.
18 November 2022 - Catch a falling leaf and put it in your pocket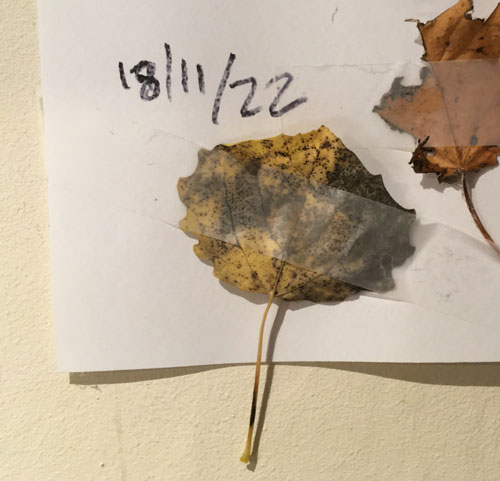 | | | |
| --- | --- | --- |
| | On my home from a terrier patrol in Swansea I managed to catch my first leaf of the year on the bike. This is the 4th year I've been saving them and sticking them to a sheet in the office. Its one year aand one day since my last catch and this year I've had 2 leaves hit me in the face and another two go through my fingers so it was a massive relief to break my duck today. hip hip hooray. | |
19 November 2022 - lost and found
Today was one of those days...........

Lost & Found 1 - They've lost a lifebuoy from the side of the river in Neath, it looks like it could be the one we salvaged downriver in Skewen a couple of months ago.

Lost & Found 2 - Back in May while I was electioneering I left my bike at the end of Ynys y Nos in Pontwalby where it mysteriously disappeared. Today I discovered Tudor riding it who says he found it on the internet. Good old Tudor was surprised to learn that the bike was mine and he and I came to an amicable agreement about my bike and I got it back. Originally I had bought it from the Olympic triathlete Marc Jenkins who had been sponsored by Giant and about a week before it got lost it had had a major service by my son Dale who initially spotted Tudor riding it in Neath. Lovely to get it back at last.
20 & 21 - November 2022 - Nant y Gwyddyl waterfall walks

Nant y Gwyddyl is a difficult to access waterfall north of the A41069 Glynneath to Abercrave road. My route today on map 1 was from the post office in Glynneath, returning via the shortest route to the footpath starting on the corner of Lon-y-Nant, Glynneath, SA11 5BD. Images on the top row are from the 20th and the bottom row shows the stream in flood on the 21st.
25 November 2022
25 November 2022 - Public Meeting, Glynneath
| | |
| --- | --- |
| | I was asked by a member of the Friends of the Town Hall Committee to knock up a poster for a public meeting they were going to organise. The forecast was that none of Plaid Cymru councillors would rurn up so I asked if I could have a seat amongst the councillors considering that I am the Chairman of a political organisation in Glynneath, Glynneath Residents Against Contamination. They declined to offer me one and when I made an alternative poster which I won't share here they cancelled the meeting. Such a shame. |
27 November 2022
| | |
| --- | --- |
| | OLIVER'S THIRD BIRTHDAY - BLOWING OUT THE CANDLES |
☺
Search the website with Google
November 2022
November 2022
November 2022
November 2022
November 2022