ST. ILLTYD'S WALK

Margam to Pembrey
Saint Illtyd's Walk is a 103km / 64 mile long waymarked long distance footpath in South Wales running from Pembrey Country Park (OS grid ref SN 403000) west of Burry Port through rural eastern Carmarthenshire and Neath Port Talbot to end at Margam Country Park (OS grid ref SS 806862) south of Port Talbot.
Saint Illtyd was a well respected 7th century saint, the trail follows a route that St Illtyd is believed to have travelled whilst preaching in South Wales. The trail links with other long distance routes in south Wales including the Coed Morgannwg Way, Wales Coastal Path and the Ogwr Ridgeway Walk.
St Illtyd lived in the latter part of the 5th and early part of the 6th century. He was held in high veneration in Wales being the founder and abbot of Llanilltud Fawr (Llantwit Major) in the Vale of Glamorgan.
In an age when schooling was only available to a very few privileged people, perhaps Illtyd's monastic school was the closest approximation in existence to an institute of higher education. Among Illtyd's pupils were St Patrick of Ireland, St David of Wales, and the future King Maelgwn of Gwynedd
THE ROUTE - Pembrey to Margam
The route skirts the fringes of Burry Port, heading east to the Lliedi reservoirs then to Pontarddulais. It then turns northeast heading up via Graig Fawr onto Mynydd y Gwair then heads southeast via Bryn Mawr and Mynydd Carnllechart to the Swansea Canal north of Pontardawe following the towpath past Ynysmeudwy and Cilmaengwyn. The route then climbs east over the northern end of the Mynydd Marchywel ridge and down to cross the River Dulais at Crynant. From there it climbs steeply up through forestry to Sarn Helen which here runs along Hirfynydd and then steeply down to Resolven in the Vale of Neath. Passing Melincourt Falls it climbs again to Cefnmawr and then turns south bound for Cwm Afan. From there it runs through Afan Argoed Forest Park to the village of Bryn thence through more forestry via Mynydd Bach before dropping down to Mynydd y Castell and Margam Country Park.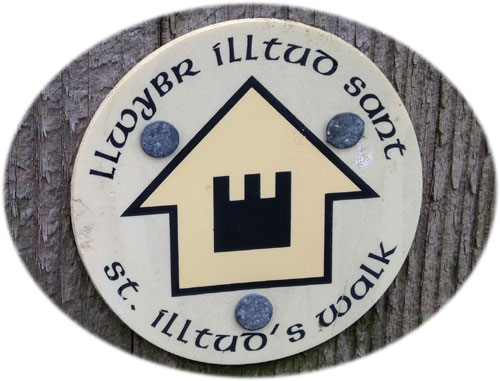 ST ILLTYD'S WALK in CIRCULAR ROUTES from MARGAM ABBEY to PEMBREY
It is our intention to complete St Illtyd's Walk in the opposite direction to that of the printed guides. As part of our Tour of Neath-Port Talbot we are currently completing the St Illtyd's Walk by circular routes that encompass the complete walk from Margam to the Neath-Port Talbot county border at Cwmgors. Once we reach that border, the NPT tour will move off in a different direction and we will come back at a later date to complete the walk to Pembrey. To view our St Illtyd walks on the Neath-Port Talbot tour please CLICK HERE
Website editor Dai Richards has a close affinity with St Illtyd having previously lived in St Illtyd's Drive, Baglan and Llantwit (church of St Illtyd) Road in Neath. His great grandfather William H Snow built the cemetery at Llantwit Church, Neath.
LINKS
St ILLTYD on Wikipedia - CLICK HERE
St ILLTYD Church, Neath - CLICK HERE
Life of St ILLTYD - Celtic texts translated, extensive archive of information - CLICK HERE
Search the website with Google