DAI'S WALK-AROUND-WALES BLOG - August 2016
It was drizzling so I took a short walk this evening on the old Neath to Pontypool railway line and over the viaduct at Pontwalby. My eye was caught by a rather unusual yellow flowering rather tall plant that was growing there. My books on flowers have flown somewhere else so I'll just put the pics here for now so I know where to find them when I find my books. There was another yellow flowering plant / weed that is extremely common and lives in my garden as well but the name escapes me.
27/8/16 - I found my books and reckon No 2 is Wood Groundsel or just plain Groundsel which I can't say I already knew and plant one is a 'no idea' plant, its not in my book.
This evening I managed to put a chart together mapping my progress on my Walk Around Wales. If I keep going at the rate of the last five years it will probably take me another 80 years to complete the walk.
6/8/2016 - BEAUTIFUL BEGONIAS
I walked over the road to see my near neighbour Ian's begonias. He's preparing them to show later this month at the National Begonia Society Annual Show in Shrewsbury. They are impressive blooms, the paper plates are 10" in diameter and Ian assures me that he's not going to eat them (the flowers).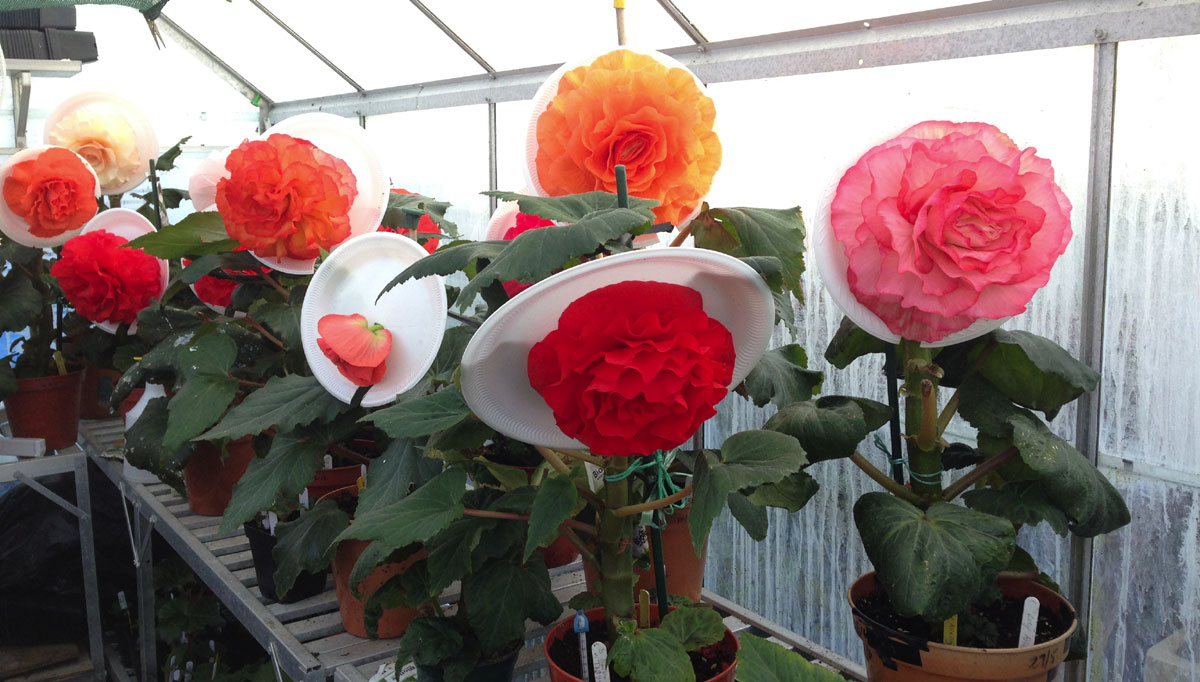 8/8/2016 - I WANDERED LONELY AS A CLOUD
A short walk on Aberavon Beach and that cloud was there again. The one that lives above Swansea and sits in front of the sun. Does anyone know who I can talk to about the removal of this cloud? It is big and it is clever and it's always blocking the sun from me.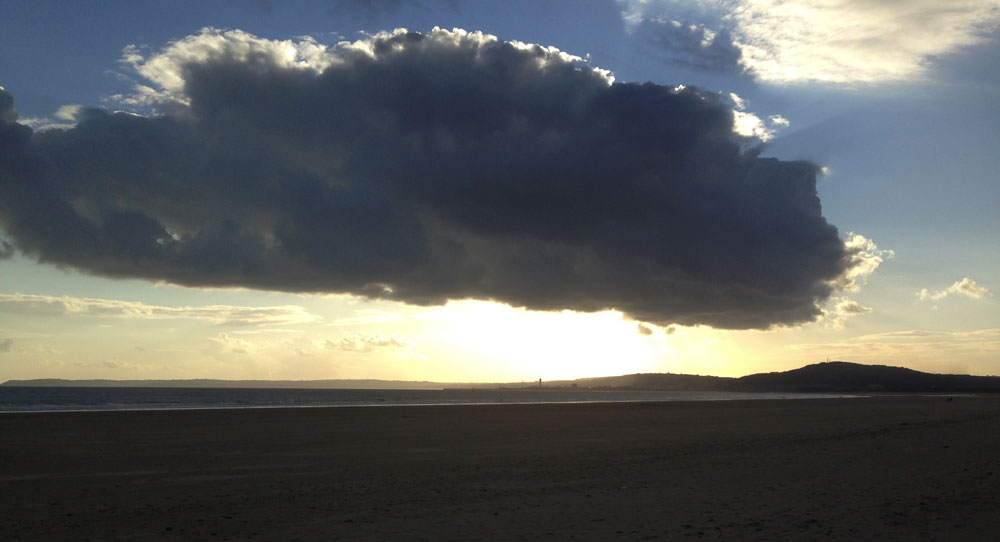 9/8/2016 - DAI'S TOUR OF NEATH-PORT TALBOT - LEG 2 - GLYNNEATH TO BANWEN
It was good day so I managed to get out and complete leg 2 of my Tour of Neath-Port Talbot. A circular loop from Glynneath to the Sarn Helen cafe in Banwen and back through the Maesgwyn Wind Farm.
The majority of the walk was on bridleways and I did come across a marker for a 'Vale of Neath walk' although I've been unable to find anything about this walk on the web. I popped into the South Wales Miners' Library at the Dove Workshop in Banwen because I'd read about it and I was being nosey. More info on this below.

South Wales Miners' Library, Dove Workshops, Banwen. - Banwen Library is a branch of the South Wales Miners' Library and is based at the DOVE Workshop, Banwen, in the Dulais Valley. This was opened in 1989 to support the pioneering Community University of the Valleys. The library was enlarged and refurbished in 1993 and 2002. The library is primarily for the use of Swansea University students studying at Banwen, but any registered student and member of staff is entitled to borrow items from the Library. Banwen Library is OPEN TO ALL on a Wednesday 9.00am - 3.00pm during term time, members of the public are most welcome to visit. For further information ring 01792 518603. or visit http://www.swansea.ac.uk/iss/banwen/

SWANSEA UNIVERSITY houses the South Wales Coalfield Collection, an extensive archive of material relating to coal mining in Wales. For more information........... CLICK HERE
The battery conked out on my Garmin so unfortunately there is no route info available yet.
15/8/2016 - I WANDERED LONELY AS A MUSHROOM
Today I met the only mushroom on the beach, it was a gorgeous day so he and I were best pals on Aberavon Beach for about an hour while I did some stretching.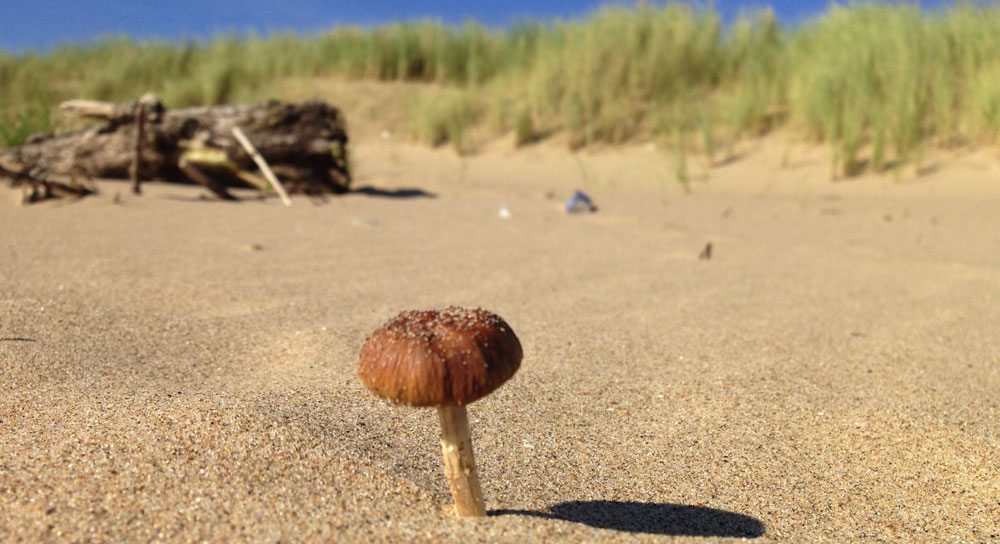 Mr Mushroom makes me want to lean closer to my computer screen and blow those grains of sand off the top. I didn't pick him and I moved on to the new ice cream shack on the prom via the water's edge and treated myself to an Italian tub of gelatto mmmmmmmmmmm. Back again to the Ferry Bend where the tide had receded and I headed up the river. Five minutes before sunset I bumped into James Rees who was chilling out while watching the sun go down. I was so impressed with his style of chilling that I joined him and watched the sun setting over Crymlyn Burrows.

More of James, he has the same name as my grandfather, Mum's dad. I never met him, Mum's dad that is, he died 5 years before I was born and likewise my grandmother passed away too. But Grandpa Jim as he was known to my sisters was a nice chap. He had a husky voice after being gassed in the first world war and ran his own haulage business. Though according to my mum he was a rubbish businessman which is why he sent her out to collect the money due. He eventually went out of business but for the summers prior to this he took his family on holiday to Porthcawl. Instead of renting accommodation they used to put the garden shed on the back of his lorry and spend the summers living in it. I love that story. See photo below
Even more of James because I immediately changed the subject last time. From now on he shall be known as James 'Pinball' Rees. Why Pinball? James designs pinball machines for a living and works as the Senior Design Engineer for a company called Heighway Pinball. He has played a major part in the design of the 'Alien' pinall machine, based on the film with Sigourney Weaver etc. I told him about my ranking of 4th in Wales about 4 years ago and how I played pinball machines in the Afan Lido and the Aberavon Fair as far back as the 1960s. I talked so much he was dropping off to sleep so I woke him up and he told me about skateboarding down form near the beach and his trip to the USA recently.

We swapped links and here is his instagram link with photos of the trip and plenty of good ones of Aberavon Beach too......

https://www.instagram.com/good_ol_jr_87/

Click on the image below for more info on the The Alien Pinball machine and on James info below for a direct link to the Heighway Pinball home page.

16/8/16 - THE BATCAVE REVISITED - 4.5 mile loop from Henrhyd Waterfall car park
I parked at the National Trust car park near Henrhyd waterfall for another visit and loop around the Coelbren and Onllwyn villages. The day was again a glorious one, a few more clouds than yesterday but the temperature was mid 20s and the wind was a lovely refreshing light breeze.
... ...
SGWD HENRHYD (HENRHYD WATERFALL)

Sgwd Henrhyd is the highest waterfall in south Wales at 90ft, (27 metres). The falls are on the Nant Llech (a tributary of the River Tawe) on the edge of the south Wales coalfield, the layer of sandstone rock at the top is known to miners as the Farewell Rock, when their pick hit this rock, they could say farewell to the coal seam on which they were working.

The waterfall is famous as a film location, the final scene of the Batman film 'The Dark Knight Rises' was filmed here where the waterfall acts as the curtain of water in front of the batcave. Christian Bale who plays batman in the film was born in Haverfordwest, Pembrokeshire although he regards himself as an Englishman according to an interview with IMBD. After the release of the film American Psycho in 2000 when asked about his drinking habits

"Is drinking part of your Welsh heritage"

he replied

"I was born in Wales but I'm not Welsh - I'm English"

He's known now the the American Psychic, distancing himself from Wales in advance of the knowledge that he'd never be the best Welsh Bale. There is only one true Best Bale in Wales and that's Gareth. That my boy is a real Welshman.

Robin standing outside the batcave at the end of the film 'The Dark Knight Rises'

Inside the batcave - free entry to all visitors at the Henrhyd Waterfall on April 1st
18/8/2016 - MOONWALK
It's that first sight of a calm sea with good body surfing waves that makes me so happy. Although it was clear....ish there was a heavy mist in the air and the sun and the moon were hiding behind it. My plan of walking up the beach on the water's edge and walking back into the sunset went into the bin and with my bathers on it was straight into the water for a body surfing session. splish splash splish splash.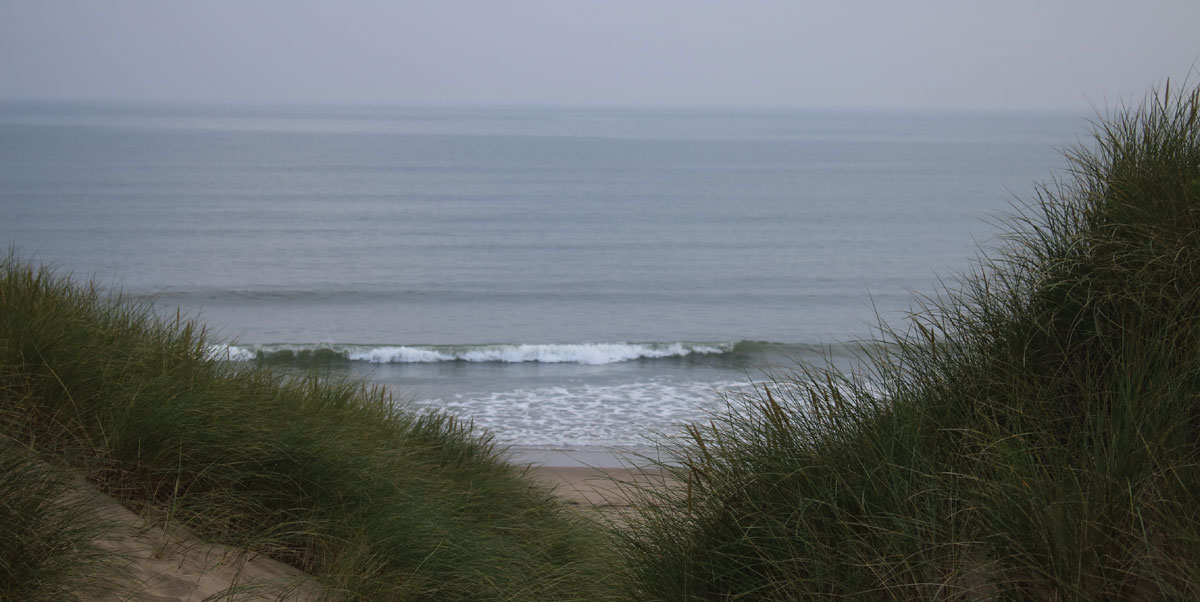 splish splash splosh.....
25/8/2016 - ST PATRICK'S BIRTHPLACE
For the third week in a row I did a tour of the Dulais Valley top end. parking at the Henrhyd Waterfall, Coelbren, National Trust Car Park and heading down to the bat cave. From there I headed past the Coelbren Miners Welfare and Prices' Arms, across the mire to Banwen. According to legend St Patrick of Ireland was born here, but then again he was supposedly born in a few other places as well. I think it would be nice to know for sure but he was born about 1500 years ago and because his parents forgot to register the birth, it's difficult to know for sure.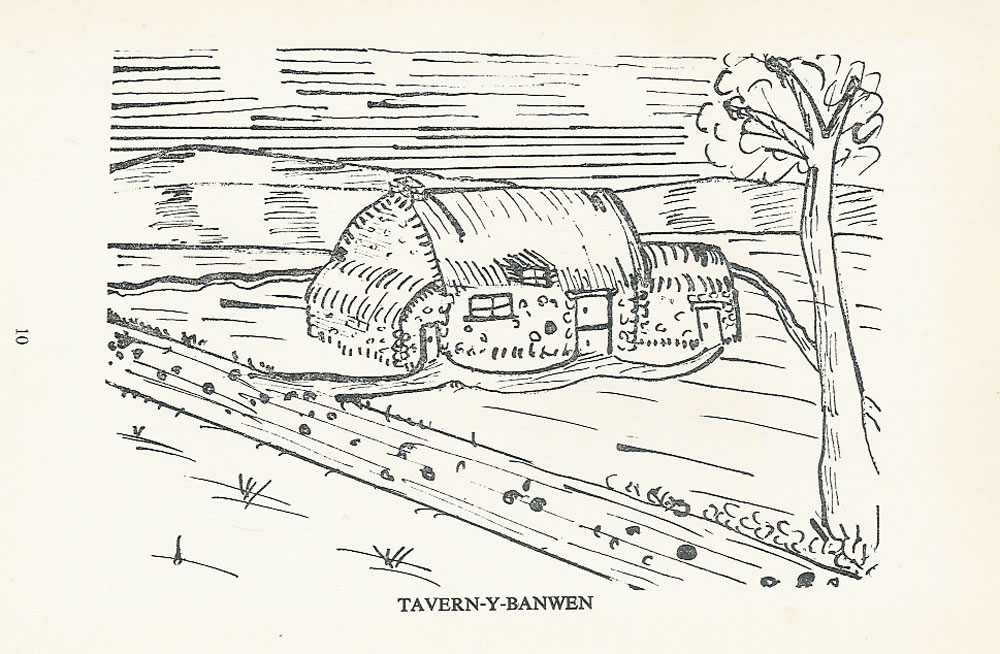 Legend has it that he was born in the area where now stands the Tafyrn y Banwen Bungalow adjoining the Roman Road. This is what historian Chris Evans says in the book "History of Cwmdulais" published in 1977.

"It is claimed that this old tavern was the birthplace of St Patrick, patron saint of Ireland. If this contention is correct then this old tavern must have been built prior to 387 A.D. for this was the year of St Patrick's birth. According to records in his Confessions, he was born in a place named Bannaven Taberriar. His father's name was Calpurnive, who was a Christian Deacon, and a member of the Roman Council. His mother's name was Concessa. His grandfather Potitus, was a priest. It is evident that he came from a well-placed family and therefore would be afforded the opportunity of a good education. His father owned a small-holding near a Roman settlement (the Gaer) of about sixteen acres. St Patrick speaks of himself: 'I was picked a stone out of the mire.' This evidently is a play of words. Stone is rekated to his name Patrick and Mire, the condition of the surrounding area of his birthplace. The various names given to Banwen throughout the years indicate an area of boggy marshland. In 1695 it is named Penwen, in 1820, Penawaun. In Archaeologie Camprensis 1853, there is a record of a Roman Town, 'Bannium' in this area.

When only 17 years of age, St Patrick along with his sister, was captured by the Irish and taken back to Ireland as a slave. He was taken prisoner by the Irish at the village of Enan, a short distance from his father's holding. Enan means Ash. How often does the word Ash occur in this area? Some people maintain that the word Onllwyn means Ashgrove. I am aware that local poets during the 19th century maintained that it came from the word Oen-llwyn meaning 'Naked Lamb' but no one really knows when it was first called Onllwyn.

When St Patrick was taken away by the Irish, this was not an isolated invasion of Wales by them. They had raided the country many times before and afterwards. Each time they came they stayed longer and took their time in taking what they wanted. Many died here, many have been buried at Bedd-y-Gwyddil, Ystradfellta. So much of the area did they occupy that places were named after them. Since there is no 'K' in the Welsh alphabet, typical Irish words like Kil became Cil, such as Cilfrew and Cil-y-Bibill. There are several Orgam stones found in this area as further evidence of the Irish invasion."
From close by the Tavern and the St Patrick's stone I did a loop of the Banwen Fishery, headed up the old railway to Claypon's tramway when I witnessed half a sunset, the sun hid behind the clouds but it turn sky a dark shade of pink so I took a couple of minutes out to photograph it, then it was back to the Henrhyd car park. By this time it was nearly dark so I avoided the waterfall, there were a couple of showers while I was out and the ground under foot near the waterfall would have been slippery.
Claypon's tramway
Sunset from Claypon's tramway

The pictures were taken at the same time but I had to let more light into the camera to get the tramway in the foreground. Unfortunately this lightened the background. When I grow up I'm going to learn how to get the best of both these worlds
26/8/2016 - SUNSET ON ABERAVON BEACH
Short walk - fair sunset - fishermen fishing and a couple of microlights buzzing around. Best photo of the night (with a red graduated filter) below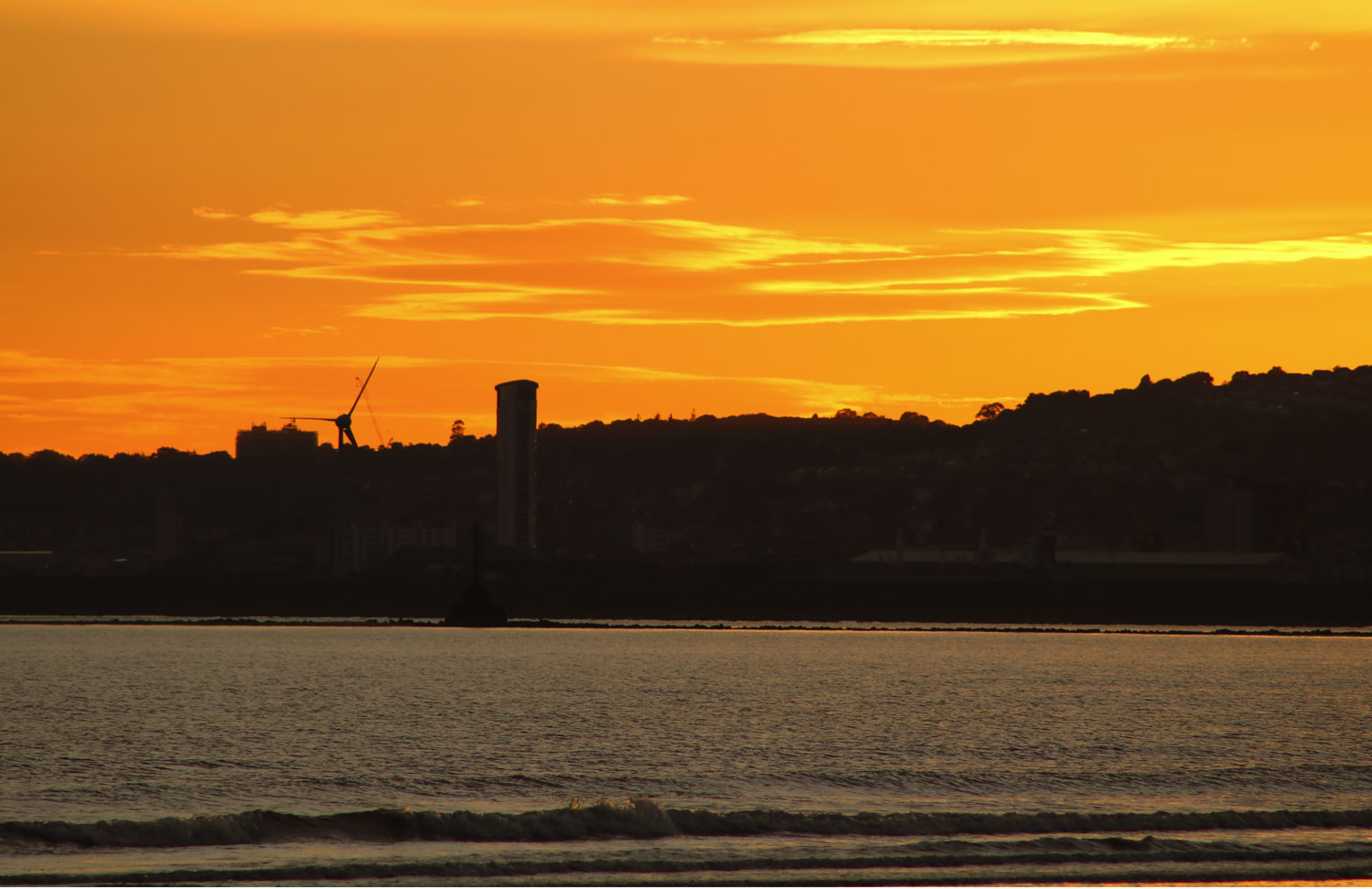 29/8/16 - POKEMON HUNTING - ABERDARE PARK
My Mrs has been collecting Pokemon on her phone to keep up with the kids. I know they are 22 and 24 but they still want to play. She's been travelling to Aberdare Park to collect the 'balls' you need to catch the Pokemon, because apparently there are a lot there. Her friend Joanna who normally goes to Aberdare with her couldn't make it today so I suggested I did the trip with her. She collected plenty of Poke-balls and also a Poke-rat. They live in the air, I couldn't see one but she said there was one and took a photo of it. I haven't photoshopped the Poke-rat in. It lives in the air. Honestly, its Poke-strange. She wasn't the only one collecting the balls, a youngster was riding around the park on his bike all the time we were there collecting too. I shouldn't forget that they had a fun day there too and I turned into a Minion as well as meeting the real Batman and Batgirl - Amazing :)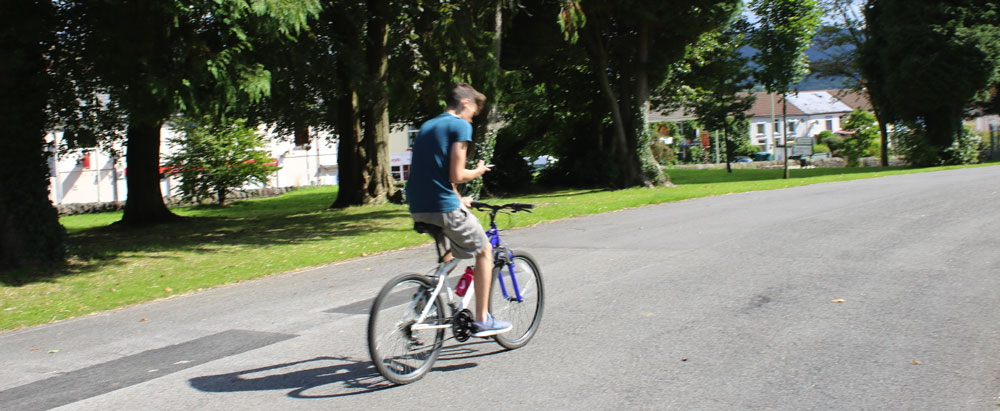 Collecting poke-balls on a bike. There are big 'No Cycling' signs at each entrance of the park but the week after, a stage in the cycling 'Tour of Britain' was starting in the park so I think this kid was part of the tour and he was just doing a long warm up before the start.
Search the website with Google