DAI'S WALK-AROUND-WALES BLOG - September 2016
1-3/9/16 - JAILHOUSE ROCK
I spent 5 days working as an extra on a BBC production of Decline and Fall by Evelyn Waugh. It is thought that the 3 part mini-series will air around the Christmas period. The series is filmed almost entirely in Wales although two of the days I spent filming were inside Shepton Mallet's Cornhill prison, not a nice place ! My role was a prisoner and I worked alongside Jack Whitehall (Bad Education) and Stephen Graham (This is England). The locations in Wales where I filmed was Trefil Quarry, I was a in a chain gang and Cyfartha Castle for a church service. More info to follow with photos once the programme is aired.
3/9/16 - 4 KIDS TOGETHER
It's not often I get my 4 children together so when I do I like to get a photo of them altogether.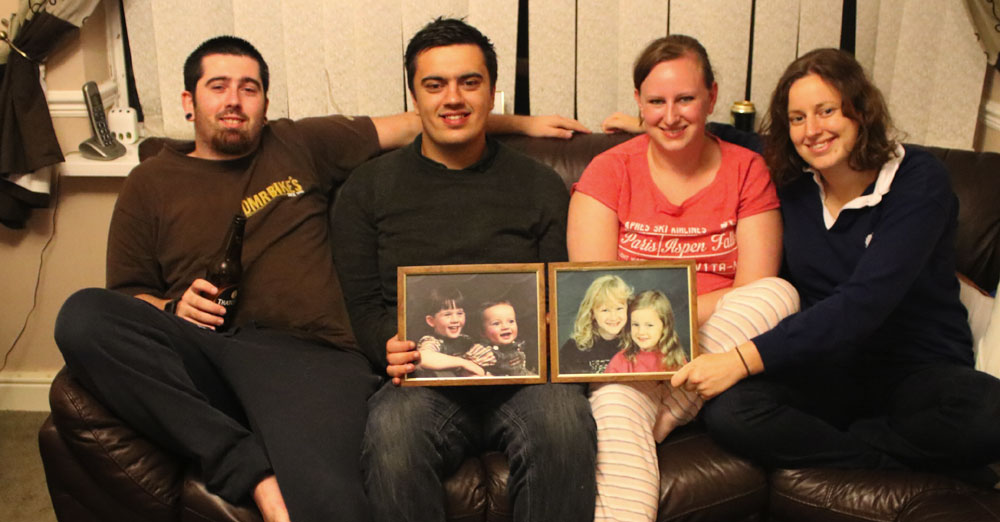 Dale, Simon, Laurie & Victoria
5/9/16 - DAI'S UNOFFICIAL TOUR of NPT - LEG 3 - GLYNNEATH to PONT MELIN FACH
Today I made the decision to call everything I've done so far on my Tour of Neath-Port Talbot as 'unofficial. It's so that I can distinguish between sensible walks and silly walks. I have a thirst for knowledge which quite often leads me off the beaten track. I had a feeling that today's walk would and so I'm terming my tour of NPT as unofficial with a capital DON'T FOLLOW ME. So from now on I'm going to keep the unofficial tour on a different page and my aim for each leg is to try a new path/route or to learn something new about Neath-Port Talbot.
CLICK HERE FOR MY UNOFFICIAL TOUR OF NEATH-PORT TALBOT
9/9/16 - THE COLLECTION - FILMED IN SWANSEA - EPISODE 2
The second episode of the Amazon Prime series 'The Collection' aired for the first time today. I was picked mainly for my cabbage throwing abilities in this programme, which is set in 1947 Paris. The scene I am in includes Max Deacon playing Billy Novak and Jemma Thiam as Nina, who reluctantly has become Billy's main model. The pair travelled around Paris shooting various poses amongst the general population. They made the big mistake of coming to my market and upset a few people flaunting the extravagance of Nina's dress. Nina was attacked and rescued by Billy, during which he pushed me several times, mainly because I'd moved his camera, but unfortunately the cameraman missed this. Never mind, I lobbed a cabbage in their direction but my aim was slightly out, note to self - practice cabbage throwing before next acting job.

The set and major actors
focussing on remembering how to throw a cabbage
10/9/16 - CLAYPON'S TRAMWAY NOW MUDWAY
Today I followed Joseph Claypon's extension to the Brecon Road tramway from it's beginning near Price's Row, Coelbren to Ystradgynlais. The tramway operated between 1827 and 1863 until the Neath & Brecon Railway was opened. Although marked as a public bridleway on the map the path is non-existent in places and in others it has been blocked off by farm fences. In the main though it can be followed if you are happy to get muddy and wet. In parts the original stones to which the sleepers were fixed remain and the tramway is quite easy to follow for the majority of its length. It's not a route I'd do again in a hurry though.

Brecon Forest Tramroads map

The Tramway
Old works on the mountain at the Ystradgynlais end of the tramway.
The Claypon brothers - it's not known which one is Joseph.
Half time refreshments at Cafe Chameleon mmmmmmmmmmm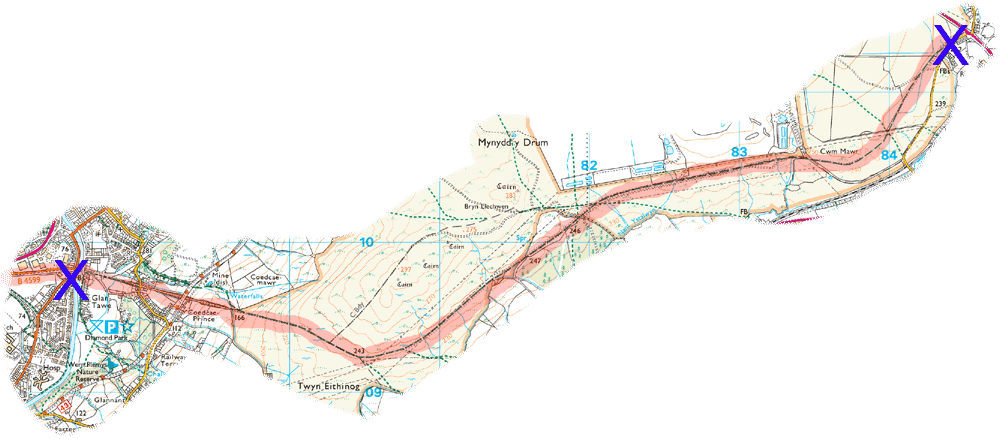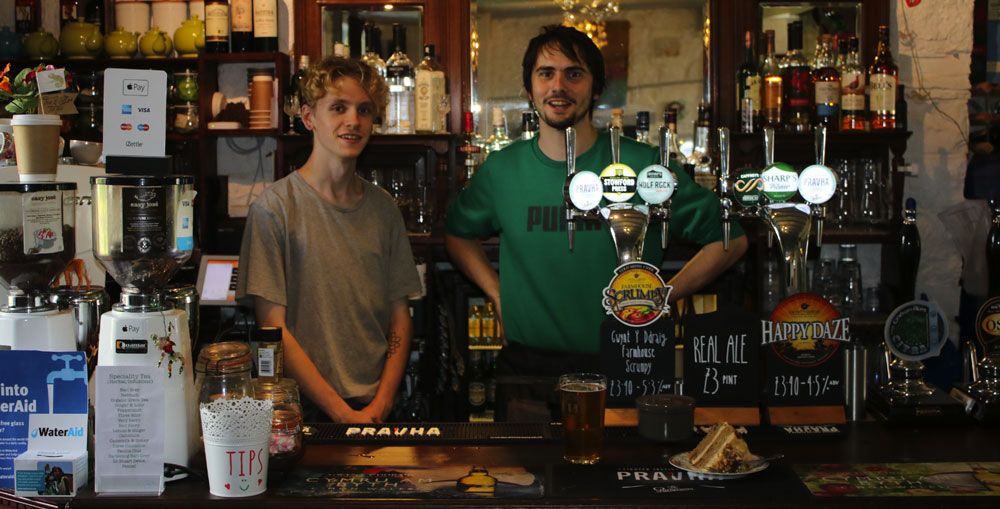 The men in charge at Cafe Chameleon (ex Gough Arms), Ystradgynlais
CLICK HERE for their Facebook page
14/9/16 - MERTHYR & THE TAFF TRAIL
| | | | |
| --- | --- | --- | --- |
| | | | |
| The Redhouse | Information plaque, they are everywhere in Merthyr, so much history and a top effort by the Merthyr history buffs to preserve it. | Y Dic Penderyn, Aberavon boy makes bad in Merthyr. | Exhibition Flyer |
A glorious day was forecast so I cancelled my appointments and took time out to pay my respects to the children and adults of Aberfan who lost their lives in the Pantglas School disaster of 21 October 1966. I parked in the top lay-by of the A470 and nipped over the bank onto the Taff Trail. From there I crossed over the River Taff on the Cefn Coed viaduct and headed down Brecon Road. Passing through Cyfartha Castle I arrived at destination 1, the Redhouse Museum for a video presentation of a photo essay by I.C. (Chuck) Rapoport about the aftermath of the disaster.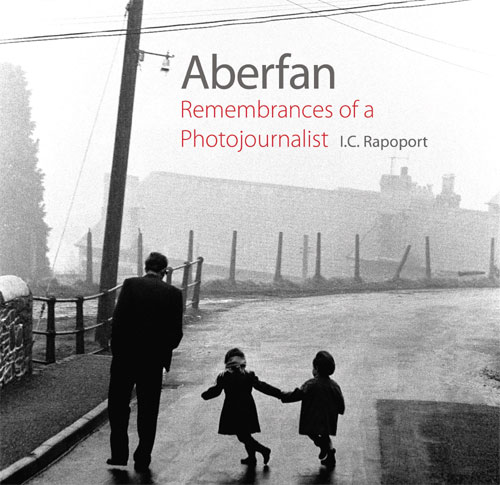 I've found it difficult over the last few years to comprehend this event and the associated emotional turmoil, I've tried to do my bit with a Cwtch of Remembrance but I've no idea if I'm sticking my nose in where it's not wanted or not.
For more information on the Cwtch of Remembrance please CLICK HERE.
From the Redhouse I made my way on the Taff Trail to the Garden of Remembrance which is at the site of the old school and the cemetery. I didn't think it appropriate to take photographs. Returning via the old Cyfartha Ironworks blast furnaces the walk was a total of 14 miles.
16/9/16 - MOONWALK ON ABERAVON BEACH
Happy full moon everyone - The weather turned nice so it was off to the beach for a family moonwalk (top right in the picture) . Congratulations to our not so little boy any more Simon............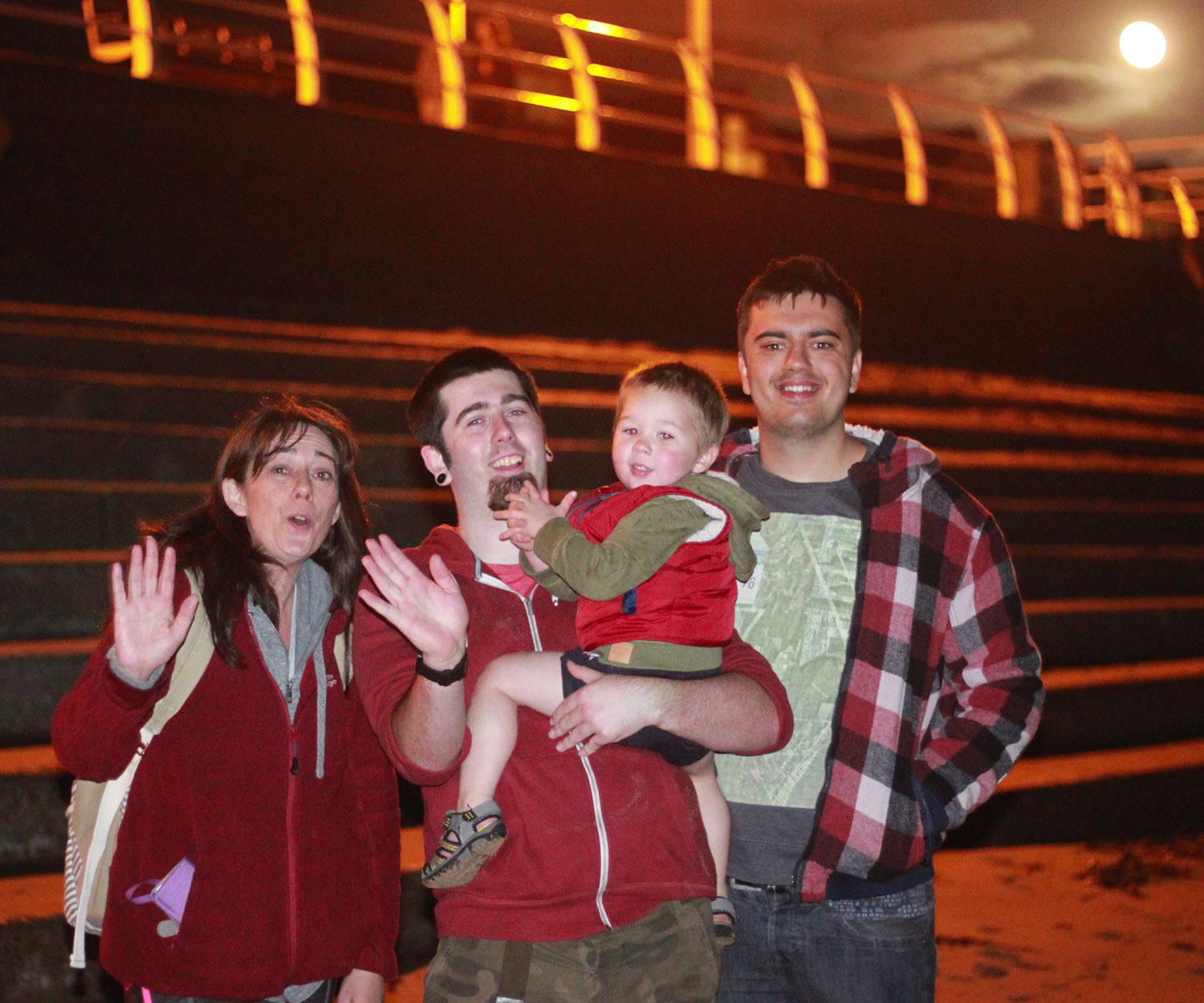 .......... pictured right who has recently passed his masters degree in Chemistry and starts his research PhD in the University of South Wales, Pontypridd later this month in wait for it......
Development of new homogenous hydrogen storage applications ?
Bear with me for a month or two I need to check on that one
And yes there was a gorgeous sunset........
Photo by Simon Thomas BSc hons, MSc
17/9/16 - BROMPTON by NIGHT - ABERAVON BEACH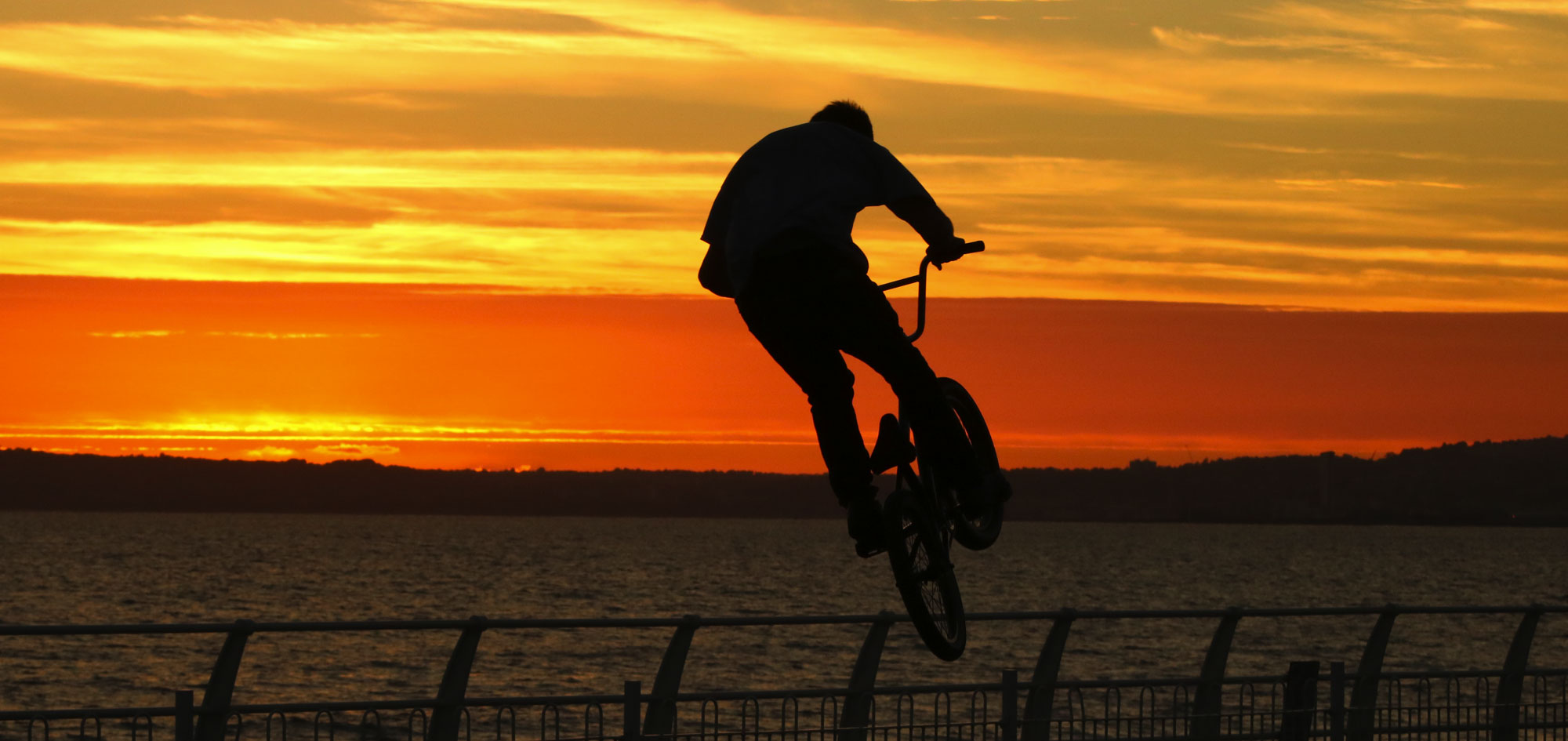 Only one day past full moon and with the temperature exceeding 20 again for the second evening in a row I headed for Aberavon Beach. After a swim and a Franco's gravy over chips I took time out to capture the youngsters in the skate park as the sun was setting. A big thank you to Peter Wilkinson and his mates for allowing me to photograph them.
SCOOTERS & BLADERS
PETER WILKINSON
The high tide crashing against the steps.
Billy Brompton ready for the off with Mumbles in the background.
A couple enjoying a Franco's outside just after sunset.
I spent 20 minutes trying to get the moon rising through the sculpture and failed dismally to get one good shot, this is a photoshop combination of the best two results.
I've played with the colours on this shot of Pete Wilkinson.

From the beach I headed up the river to Port Talbot town and back again via Water Street and Beach Hill bridge, about a 5 mile trip but didn't take any more photos it was just a nice calm fullish moon of a night and the joy was in riding my little two tone friend, Billy Brompton :)
18/9/16 - DAHLICIOUS SANDWICH
This weekend was the 'City of the Unexpected Festival' in Cardiff to celebrate the 100th anniversary of the birth of Roald Dahl in the city. My daughter Laurie and I parked up river in Llandaff and walked to the festival on the Taff Trail. There was a food festival with a Roald Dahl theme and we both lunched on a specially named SCRUMMDIDDLYUMPTIOUS toasted smokey bacon & brie sandwich at the Mr Croquewich Grilled Cheese bar. We followed this with hazelnut liquid nitrogen ice cream and a leisurely relaxing rest on a deck chair. I love Rolad Dahl's books and read them all to the kids as bed time stories. My favourite of all is the little known 'The Wonderful Story of Henry Sugar'. It's a superb story, if you haven't read it do so now.
Arrive at Mr Croquwich
Choices Choices
Choices Choices 2
Toasted Sarnies on the way
Sarnies delivered
Arrive at Ice Cream cart
The process begins
Clouds appear
Ice cream on the way
and delivered to Dai
time for a rest
with my best Roald Dahl meanie face on
Laurie and the Giant Peach
Back to the car following the River Taff
19/9/16 - THE CHOIR - I headed over the hill to join the Glynneath Male Voice Choir
20/9/16 - BANWEN - HENRHYD
It was a lovely warm evening so I did an out and back course from Banwen to Henrhyd Waterfalls and back with the camera and tripod. Cutting through Y Pwll (The Pool) I came across Chris James (an ex Welsh International swimmer) who was fishing there. Chris had caught 6 or 7 carp at the pond and had returned them to be caught again. He kindly allowed me to take some photos, so I did and bothered him no more.

My next stop was at the Banwen Wildlife Ponds where there were the most amazing dragonflies. I just couldn't get a good shot of them, they were absolutely massive, about 6 inches long with the head the size of a golf ball. I tried to photograph them, (there were two) but by the time I changed my lens to catch them with the zoom, they'd gone, so I took a photo of this little red one and moved on.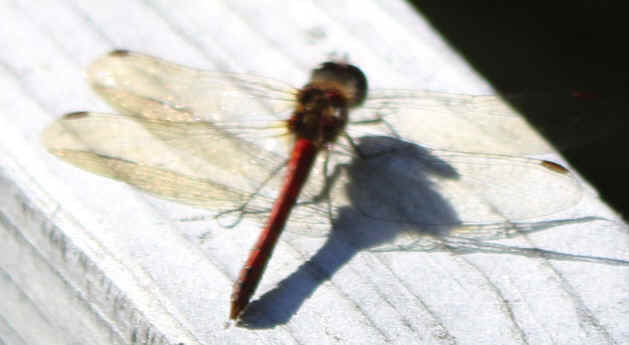 I headed over to the waterfall and took a few shots there. The odd bird popped up but my lens aim just wasn't good enough to catch them in focus when they were flying. Still, there was a Robin who stood still for me, he must have known I was on my way to the Batcave, not forgetting the horse who let me take a photo right up his nose.
25/9/16 - LIGHT RAYS
I headed for Margam Park and failure. The first failure was in finding chestnuts, I found the trees and some empty shells but not one decent chestnut was to had there. The second failure was in taking an artistic photograph of the light rays. My one success was in reading the weather, that there would be light rays so I'll chalk that one up and as I'm editing the photos now I think I did OK on those too. Still no chestnuts hurts my feelings and the deer were playing hard to photograph too.

27/9/16 - FISH AND CHIPS AT SUNSET
Somebody up there is spoiling us with the weather, another nice day so Hayley and I headed to Francos for fish and chips at sunset. We parked at the layby near the council offices and headed down to the Ferry Bend, turned left at the sea and hey presto 90 minutes and about 200 photographs later we are at Francos for fish and chips with 15 minutes to spare for sunset. Hallellujah, Hallellujah, Hallellujah............. Amen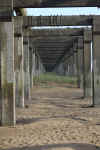 30/9/16 - LEG 5 - HW TOUR OF NPT - MELINCOURT to YNYSARWED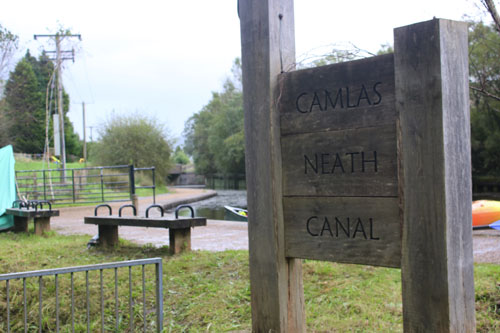 I've started so many different tours of NPT that I now have to give them individual names.

The official NPT tour - one I hope will be adopted by someone who loves tours of NPT.

The unofficial NPT tour - where I discover new routes and places I've never been to within the county.

The HW tour - The husband and wife tour with my darling wife Hayley, for fun, fitness and spending time together. A continuous walk of overlapping routes of around 6 miles, give or take 2 miles for convenience.

This is one we started around 3 years ago and then I broke my leg and it was put on the back burner but today we put it back on the front burner and started where we left off three years ago. Originally we started the tour in Glynneath and from memory it went something like this.

Leg 1 - Halfway Inn, Glynneath - Glynneath Leisure Centre

Leg 2 - Glynneath Leisure Centre to Rheola market (now moved to Resolven)

Leg 3 - Rheola Market to Farmers Arms, Resolven

Leg 4 - Farmers Arms to Melincourt Waterfall
Search the website with Google