Tonight I did one of the most interesting walks in Wales and started what I hope to eventually finish, a 'Tour of Neath Port Talbot'. Starting at the Sarn Helen cafe in Banwen, a possible birthplace of St Patrick of Ireland, passing by Ton Pyrddin Ironworks, the Roman camp. Henrhyd Waterfall, the highest in south Wales and location for of Batman's cave in one of the films, the villages of Coelbren, Onllwyn & Dyffryn Cellwen before returning to Banwen & Dai's Wall where I can be seen putting up the posters 'Victory to the Miners' in the film Pride. CLICK HERE to view this on youtube - I can also be seen getting into the van after the guy shouts 'Martin come on'.
... ...
For an information leaflet about Banwen please........ CLICK HERE
For an information leaflet about Onllwyn please........ CLICK HERE
The above links are from the Dulais Valley Heritage Trail website, this is a very informative website, nicely laid out and prresented. For more info please click on the link below.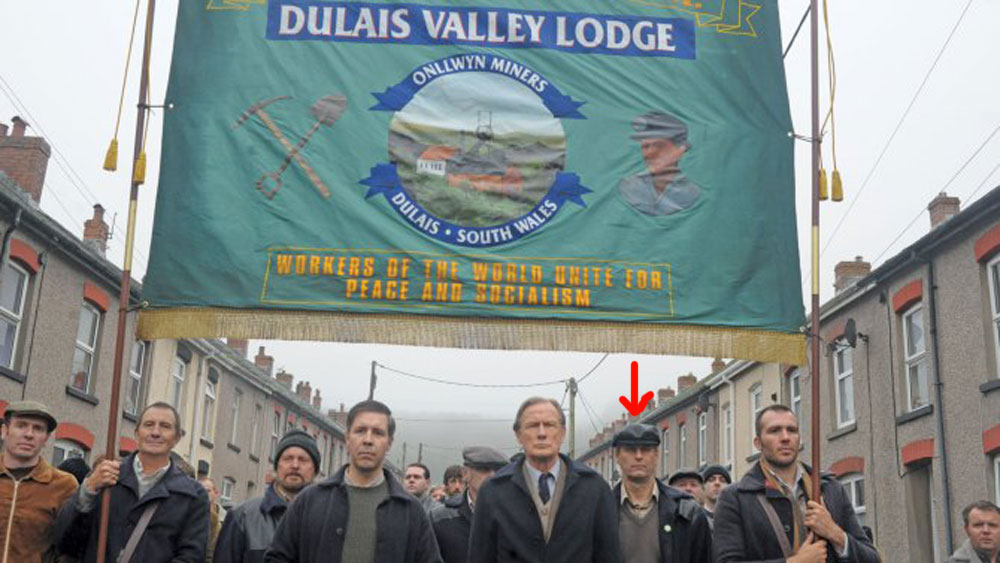 The above promo photograph from the film Pride was taken on the Roman Road in Banwen, the central characters are Paddy Considine and Bill Nighy. I can be seen to the right of them with an arrow hovering above my head. Several scenes from the film were shot here including the march back to work at the end of the strike, pictured above. The other main South Wales location for the film is the Welfare Hall in Onllwyn, about 1 mile away from Roman Road. Roman Road was also used extensively in the 1988 Comic Strip Present comedy 'The Strike' starring Alexi Sayle.
This flowering shrub I'm pretty sure is a wild rose, there were several of them on the walk plus I managed to pick a couple of handfuls of wild strawberries. I've no idea what the plant below with the white fluffy head is. Danny Jones, Banwen born and bred is of the opinion that the village gets its name from these plants, which at a distance when clumped together closely give the appearance of snow lying on the ground. Wen is the Welsh word for white and ban can mean a number of things including summit (to be confirmed). Before the forestry arrived the mountain he says was plastered with these plants and that's how the village got it's name.
CLICK HERE FOR THE JONES BROTHERS VISIT TO THE BANWEN IRONWORKS