DAI'S WALK-AROUND-WALES BLOG - JANUARY 2016
2/1/2016 - River walk
It's been raining on and off, mostly on for about the last 3 weeks so where better to go for a short walk than around the corner to waterfall country. One of my ambitions for the year is to learn how to point my camera better so I took the tripod and tried a few moving water shots.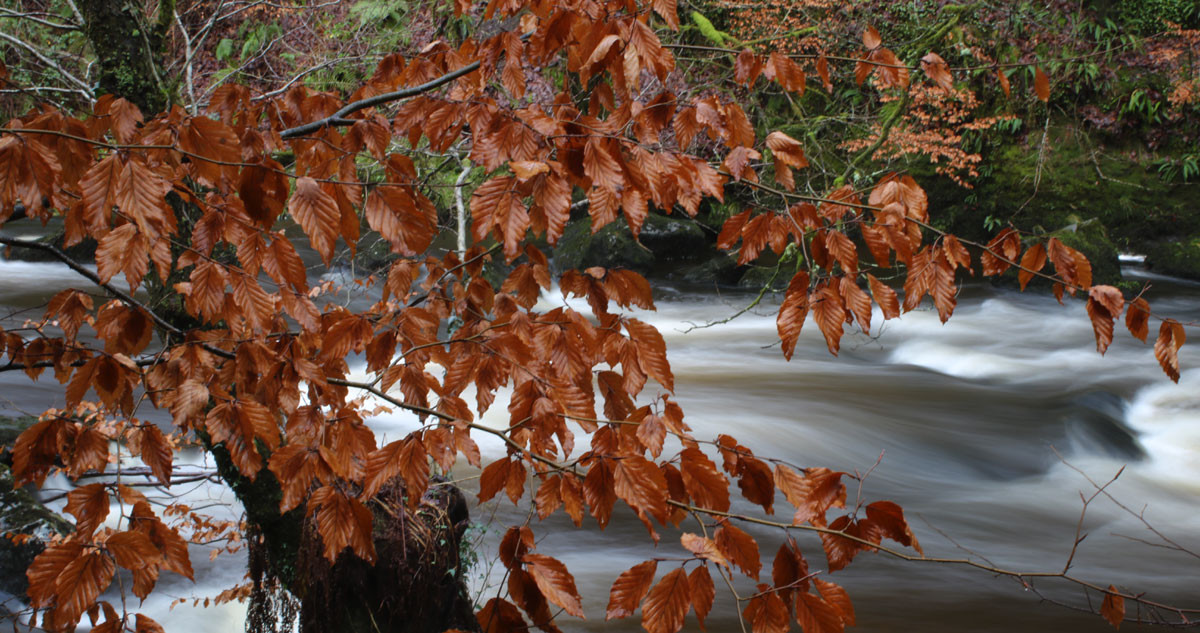 ........... and some non-magical mushrooms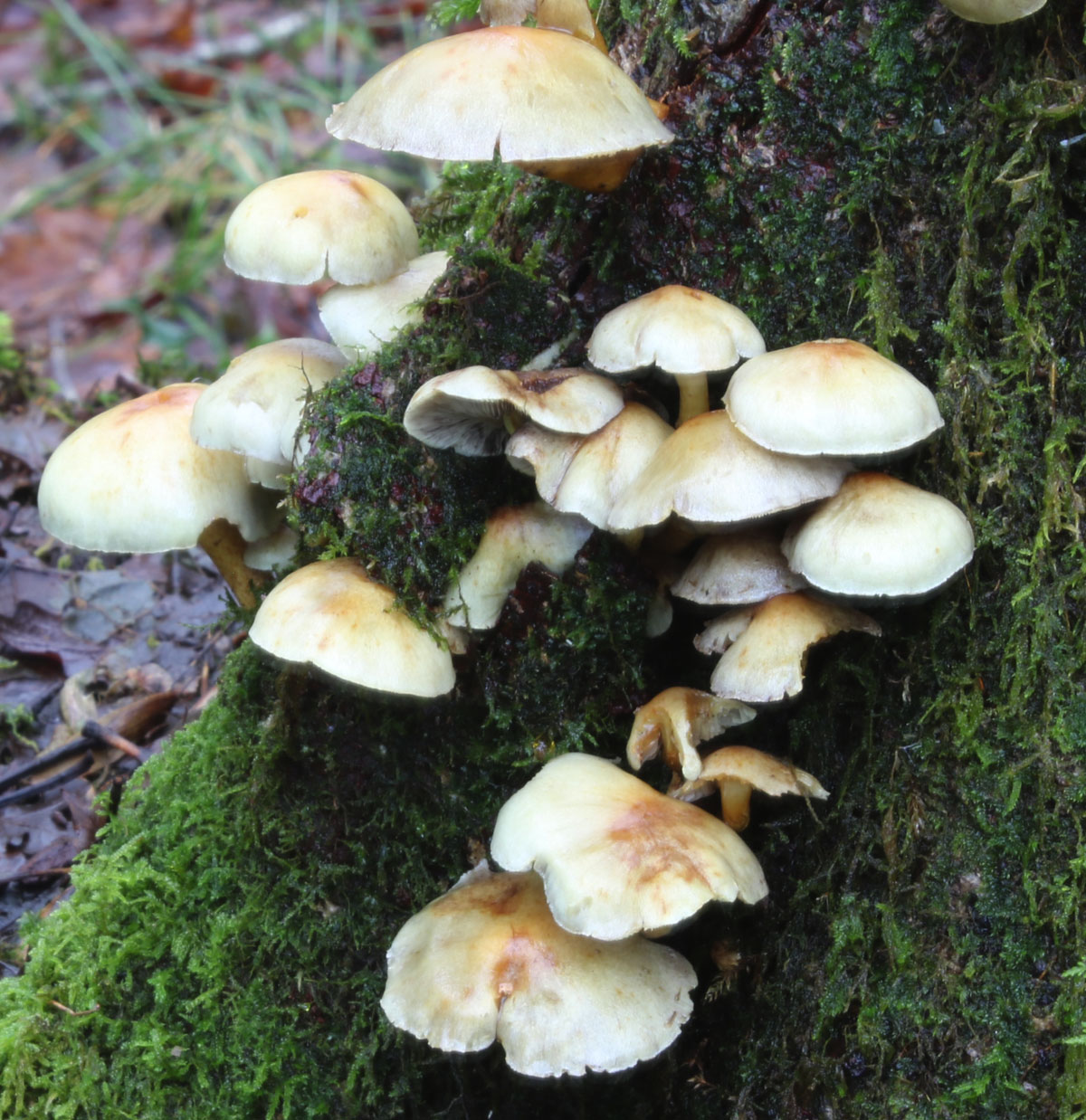 .......then it started raining again so I put the camera away and headed for Sgwd Gwladys where I met Gary and Sally who are from Warwickshire and were overnighting in Merthyr Tydfil, they kindly agreed to have their legs photographed for the WAW banner (Gary = a, Sally = r). Good on ya.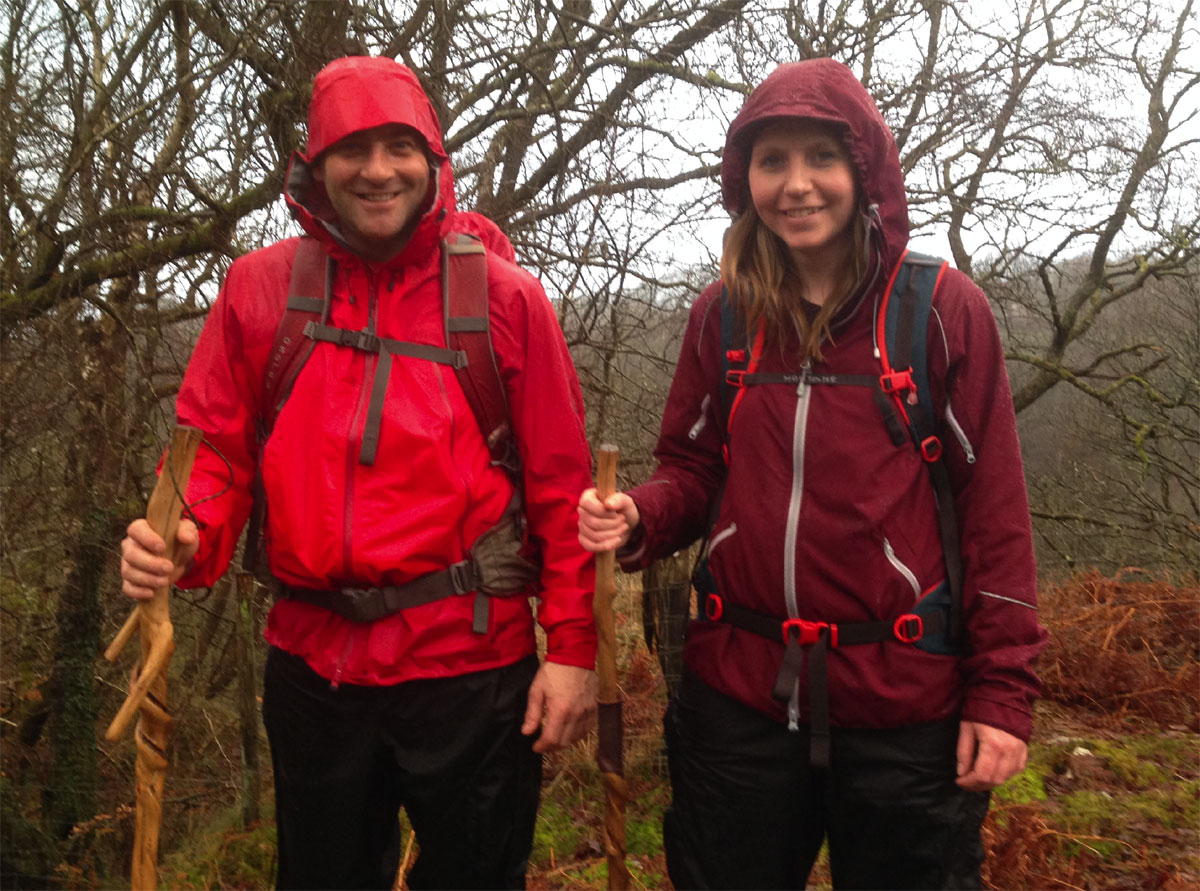 and not forgetting ................ HAPPY NEW YEAR
5/1/16 - Waterfall circular
For some strange reason there was a yellow thing in the sky for about 20 minutes around lunchtime so I grabbed my camera a little later on and headed off for a full waterfall walkabout. I try to do this at least once a year, normally when the rivers are in flood. Time was of the essence because, it's around a 9-10 mile walk and I only had 3 hours of light left so the camera came out just the once at Sgwd yr Eira, the number 1 waterfall in Wales. I'm trying to learn how to take photographs properly so bear with the quality of my photos for at least the next couple of decades. The photo on the right has a couple of people in it so that the scale of the falls can be seen. They had just walked behind.
It was nice to get out into the open air, the walk was good but with a serious amount of mud, I'd estimate that at least 85% of the walk was in 2-10 inches of mud. Then as I approached half way it started raining again :(
8/1/2016 - Milefield at twilight
A short note about my photography before I set out on today's walk, it's raining again but the forecast is for a touch of sun around late afternoon so fingers crossed that the rain goes away and I get out to play. I'm not really interested in photography itself as an art form what I want to do is capture the moment when I feel wonderment. I love love love and double love sunsets but I can never ever ever ever get a photo that does a sunset justice. The colours in the sky are what I want to capture, the pinks, purples, oranges & reds of the sunset. I want to build a convenyor belt of colours, firstly they are in the sky, then I want to capture them in my camera, put them on my computer and then onto this website. I want to look at my photos and relive the feel of that sun setting in the distance and that feeling of wonderment. That's why I need to learn to point my camera better. I watched a youtube video the other day that said underexposure is the key to getting good colours so I just need to remember that and I need to practice it first. I have to learn to become an artistic photographer.
Today's walk with photography at sunset in mind I revisited an old stomping ground Briton Ferry woods and Baglan Mountain. The latter was one of my slow worm and grass snake hunting grounds when I was young. The Milefield I figured was an ideal place for photography this evening, it links Baglan Mountain to Briton Ferry woods, if you are driving east on the M4 across the new Briton Ferry bridge the Milefield is the long track following the line of the pylons up the mountain in front of you. If you can see it plainly from the M4 the logically you can see the M4 clearly from the Milefield. Now it's just a track because the brambles have taken hold but when I was younger is was wide field. I used to ride it on the mountain bike up until the mid 2000s, it was great fun, safe but speedy. To start the walk I parked at Briton Ferry library and headed through the Briton Ferry woods on Lady's Walk, a well known path. The focus was camera practice. In my opinion I got one decent shot.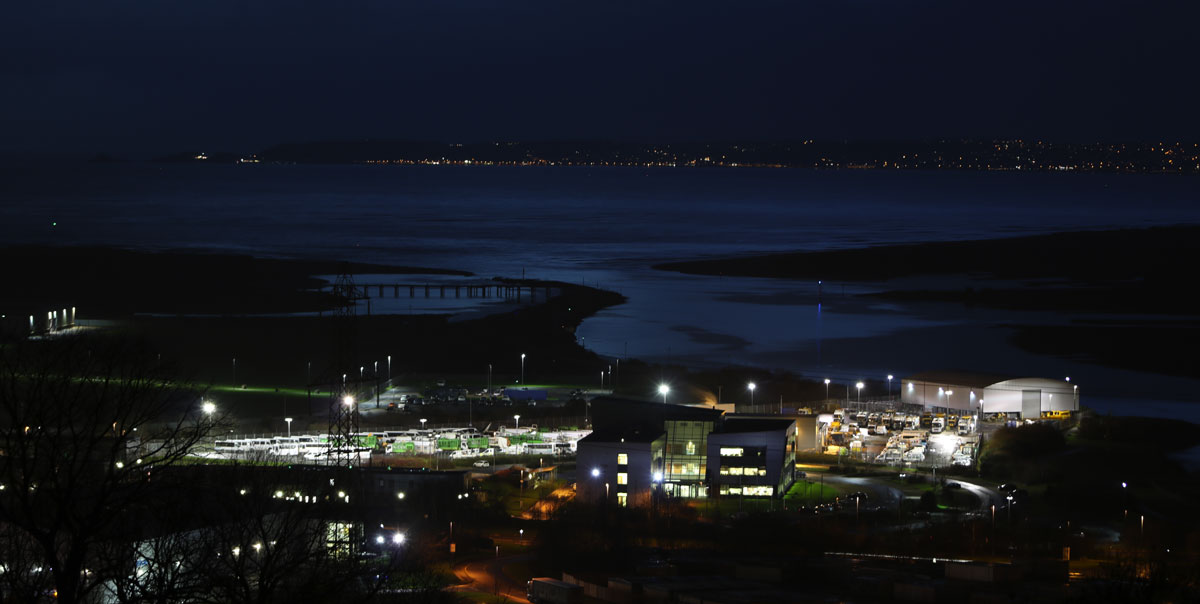 In the foreground are The Quays, Neath Port Talbot councils new offices and depot, mid shot is the Ferry Bend with Swansea and the Mumbles in the background.

| | | |
| --- | --- | --- |
| | | |
| A shot up the milefield, I tried a bit a motion blur on the clouds. I don't think it quite hits the mark. | The M4 & Fabian Way to Swansea, there's a rain shower in Jersey Marine. | Traffic trails on the M4. |
I finished the walk by making it circular, following the path towards Baglan and cutting back down to the Old Road and following the main road through Brition Ferry back to the library, a total of 3.3 miles :)
10/1/2016 - watch the birdy
It's raining again and has been for the last 24 hours so I managed a walk to the kitchen to make myself some lunch and took some photos of the birds feeding. I'm not an expert on birds, I can tell the obvious ones robin, starling, sparrow, red kite, ostrich, penguin, vulture etc and a couple of years ago I learned to recognise a blue tit but the rest are a struggle. taking photos today there was a definite blue tit feeding and I think a great tit as well, at first I thought it was a coal tit but a bit later the same bird returned and I could see the breast was quite yellow so I'm plumping for great tit. I'm using the RSPB bird website and the bird identifier page in particular for this info.


http://www.rspb.org.uk/discoverandenjoynature/discoverandlearn/birdidentifier/
12/1/2016 - Invisible sunset at the Ferry Bend
I'm a proper photographer already, I learned today that my Glynneath 5 photo was published in the South Wales Evening post on the 30th December.

CLICK HERE FOR INFO ABOUT THE GLYNNEATH 5 MILE ROAD RACE ON BOXING DAY
With the possibility of a nice sunset I headed off down to the Ferry Bend to see if I could catch a good one. It was rubbish (middle photo below) and the sky cleared about 30 minutes later which was a little disappointing. I needed to practice a little with the new shutter release cable and neutral density filter that arrived today.



I think the birdy may be a Little Gull - I might be wrong though, it's the closest I could find to the bird in the picture. It's got a long reddish beak.
13/1/2016 - And we were singing Hair Ice Arias, boot of Mike Pfeiffer and Arthur Phillips (to the tune of Hymns & Arias)
There was the possibility of an overnight frost and when I checked the car first thing there was a good solid frost on it so I finished off the immediate work I was doing, guzzled my coffee and headed up to waterfall country to photograph some 'hair ice. I took loads of photos and these are the best 5.

For more about hair ice please see my previous bog about it ......... 17/2/2015 - CLICK HERE

I had time to nip back home for 10 minutes before heading off to the rugby club to take photos of Mike Pfeiffer receiving his Glynneath 5 outstanding athlete award from Max Boyce.

Max, Mike & race organiser Arthur Phillips. Plenty of photos all taken before lunch now it's back to work.............
18/1/2016 - more birds
I walked as far as the kitchen for lunch again, opened the window, brrrrrrrrrrrrrrrr, and took some more birdy shots, all with the 150-300mm zoom lens and on sport mode. I've tried to identify the new ones again with links to the RSPB page website for this bird, if I have any wrong please let me know, the link to email, is below the birdies.
| | |
| --- | --- |
| | Blackbird (male) - CLICK HERE |
| | Blue Tit - CLICK HERE |
| | Chaffinch (female) - CLICK HERE |
| | Chaffinch (male) - CLICK HERE |
| | Coal Tit - CLICK HERE |
| | Great Tit (juvenile) - CLICK HERE |
| | Long Tailed Tit - CLICK HERE |
| | Nuthatch - CLICK HERE |
CLICK HERE TO EMAIL DAI at WALK-AROUND-WALES
19/1/16 - Three cheers for a sunny day
Oh yes - the first full sunny day of the year and the sun hides behind the only bank of cloud in the sky at sunset, what a sickner. I had two cameras and two tripods and all the bits and pieces at the Ferry Bend testing out the new neutral density filter and going for long exposure shots. Interesting stuff, then off to the new Francos for a first ever new Francos fish & chips, gorgeous, warmed my hands up nicely the temperature was around freezing. A 7 mile walk in total.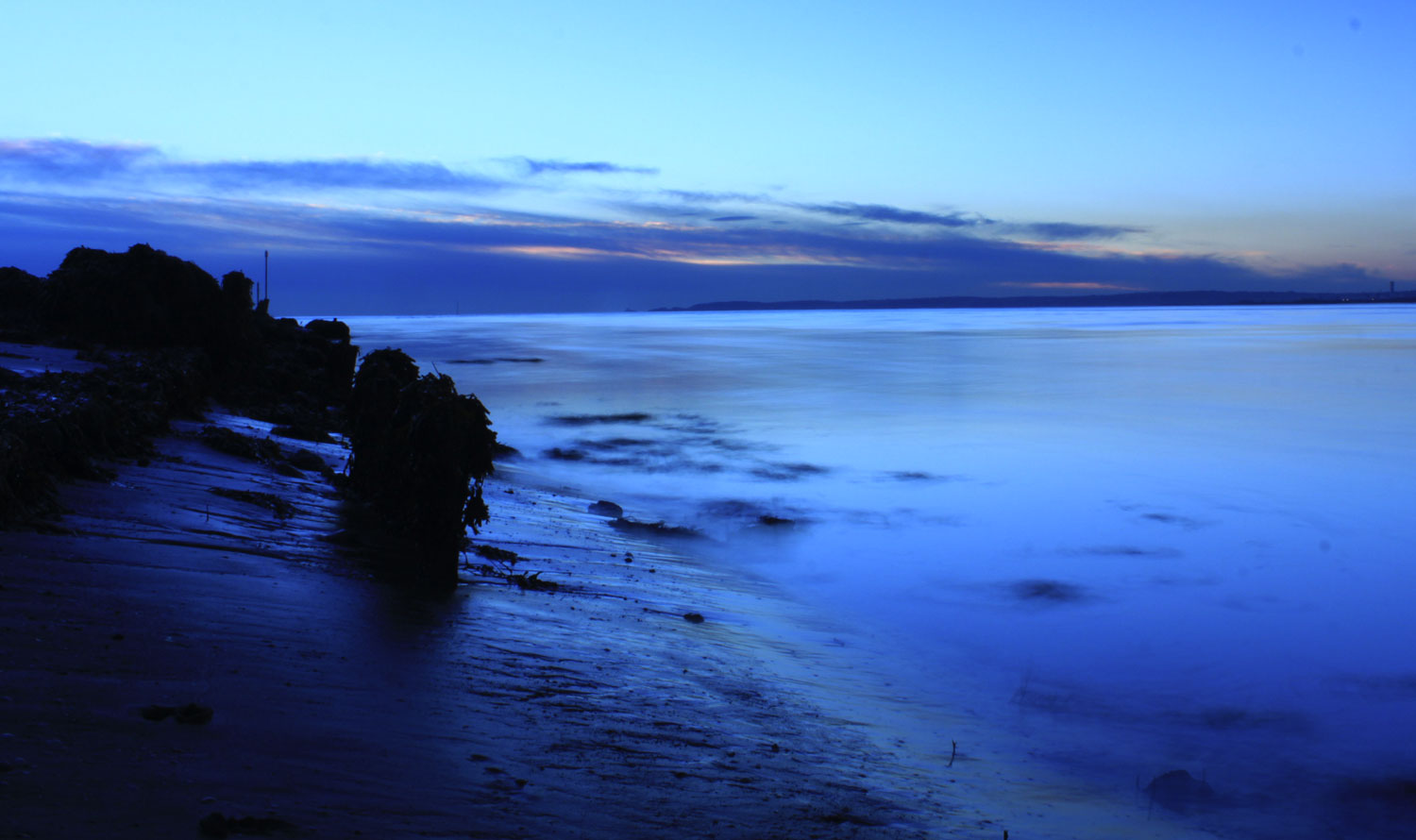 Mumbles from the Ferry Bend with a variable ND filter at the max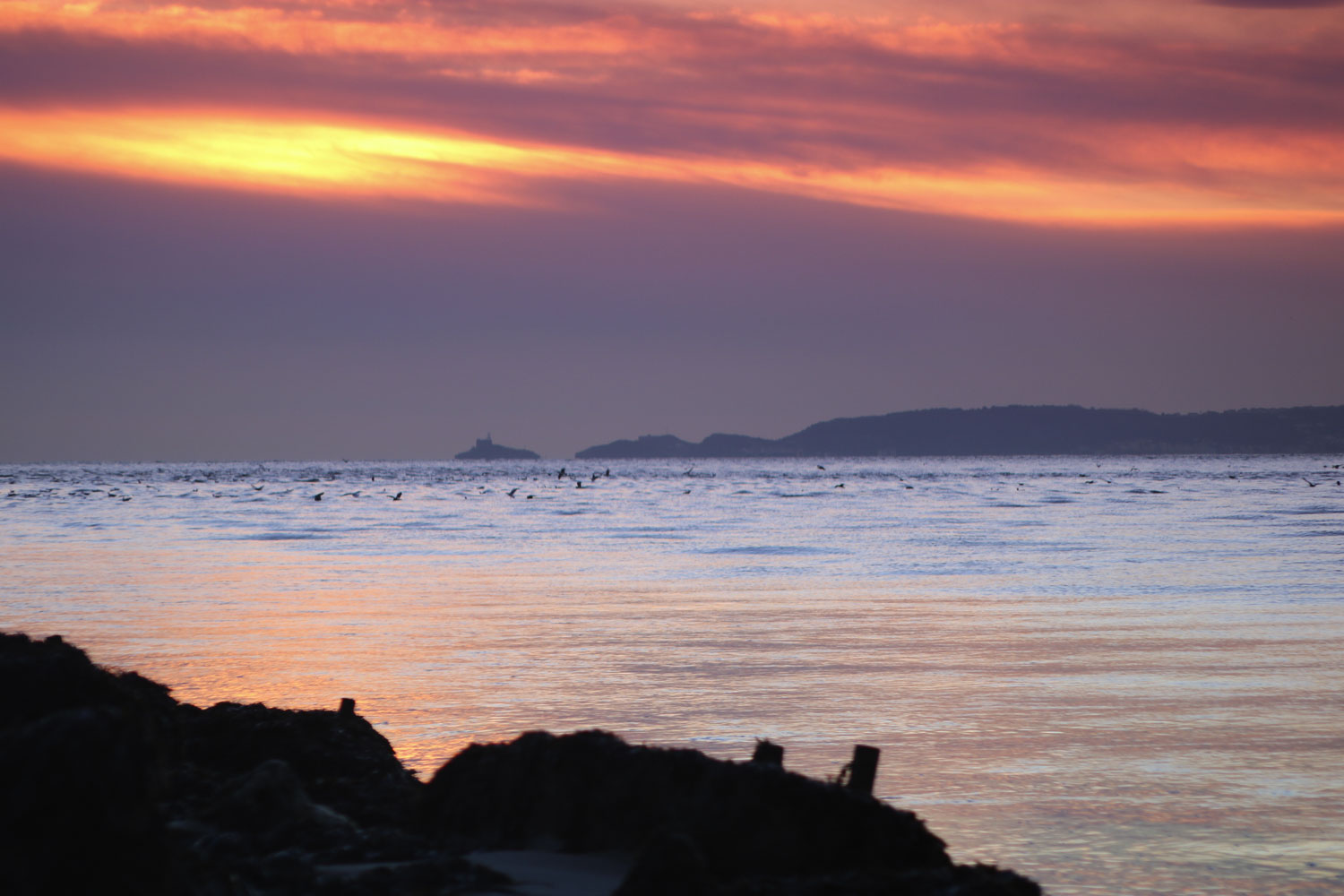 Mumbles from the Ferry Bend with a grauduated (possibly the wrong terminology there) red filter
28/1/16 - tongue in cheek
There was a bit of a frost this morning so I went hunting for hair ice, none there I'm afraid so I took a few photos of this plant, I think it's called 'something tongue' but I can't find my identification book to confirm what the name is. I always remember my mad mate Ian telling me that it's an edible plant so in my early days of long bike rides I found myself eating it when I had the knock ('the bonk' 'hit the wall') one day trying to ride around the Isle of Wight. More to follow hopefully when I find my book.
31/1/16 - new for old
Today was just a short walk on Aberavon Beach between the new leisure centre at Aberavon Beach and the new Francos and back again. There were two firsts today, a first swim in the new leisure centre and the first sit down fish & chips at the new Francos. I met up with my son Dale, his partner Jess and my grandson Gethin for outing. Gethin was in his element on the beach and within 2 minutes was face down in the sand, he loved it.

Search the website with Google